Why John Byrne Isn't Part of Action Comics #1000
Action Comics #1000 has many comic book creators associated with Superman contributing to the over-sized issue, that also marks the 80th Anniversary of Superman.
But it doesn't include one of the more significant contributors, John Byrne. Who, in the mid-eighties, rebooted Superman with the six-issue twice-monthly series Man Of Steel, which then followed with the ongoing Action Comics and a new Superman #1.
Coincidentally, this Action Comics #1000 will lead into a weekly six-issue mini-series called Man Of Steel written by Brian Bendis, which will then continue into the ongoing Action Comics and a new Superman #1.
John Byrne introduced a number of changes, some that have been reversed of late, but many have been taken and used by other media. The businessman Lex Luthor is his, as is a reduced-strength Superman is his (no moving planets anymore), Clark Kent getting a job at the Daily Planet with a Superman interview, the removal of his time as Superboy, and more recently his World Of Krypton series has heavily influenced the Krypton TV show and Man Of Steel.
But what of Action Comics #1000? John Byrne has chosen not to work for DC Comics or Marvel for some time, of late he has mostly been published by IDW.
But he did get a call… in October on his John Byrne Forum he wrote, in reply to a question about this comic.
I was contacted by someone at DC, who left a message. When I called back, I got a recording telling me which number to press if I wanted to be taken off that "call list".

And that's where it stands.
And when it was recently brought up, he confirmed 'Sorry, I'm not on board for ACTION "1000".'
Maybe one more phone call would have done it DC?
Here's who is in it instead…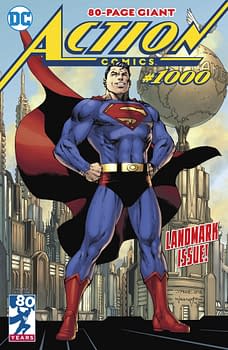 ACTION COMICS #1000
(W) Various (A) Various (CA) Jim Lee, Scott Williams
Retailers: This issue will ship with ten covers. Please see the order form for details.
Celebrate 1000 issues of Action Comics with an all-star lineup of top talent as they pay tribute to the comic that started it all! From today's explosive action to a previously unpublished tale illustrated by the legendary Curt Swan to the Man of Tomorrow's future-this very special, oversized issue presents the best of the best in Superman stories!
FEATURING ALL-NEW ART AND STORIES BY:
• BRIAN MICHAEL BENDIS
• JOHN CASSADAY
• OLIVIER COIPEL
• PAUL DINI
• JOSE LUIS GARCIA-LOPEZ
• PATRICK GLEASON
• BUTCH GUICE
• GEOFF JOHNS
• DAN JURGENS
• TOM KING
• JIM LEE
• CLAY MANN
• BRAD MELTZER
• JERRY ORDWAY
• TIM SALE
• LOUISE SIMONSON
• SCOTT SNYDER
• CURT SWAN
• PETER J. TOMASI
• MARV WOLFMAN
…AND MORE!
DECADES-SPANNING OPEN-TO-ORDER VARIANT COVERS BY:
• STEVE RUDE (1930s)
• MICHAEL CHO (1940s)
• DAVE GIBBONS (1950s)
• MICHAEL ALLRED (1960s)
• JIM STERANKO (1970s)
• JOSHUA MIDDLETON (1980s)
• DAN JURGENS (1990s)
• LEE BERMEJO (2000s)
…PLUS A BLANK VARIANT COVER!
In Shops: Apr 18, 2018
SRP: $7.99