World of Archie Jumbo Comics Digest #71
{{ reviewsOverall }} / 10
Users
(0 votes)
I've written a bit about the Archie Digests in the past. Some I've been pretty fond of, while others fell squarely into "okay" territory. But the main constant throughout all of them has been the small town, welcoming feeling you get from reading Archie comics. Under usual circumstances, Riverdale is a pleasant place with a cast of characters wide enough for everyone to find a favorite. And while mischief may run afoot and rivalries will be made, there is always a undercurrent of camaraderie throughout the whole ordeal.
Except in World of Archie Jumbo Comics Digest #71.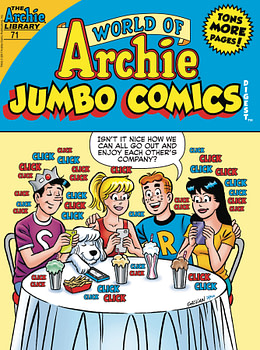 World of Archie Jumbo Comics Digest #71 starts off as most Archie Digests do: with a brand new tale. I was pretty eager to sink my teeth into this one after reading the new story Hitting A Sour Note. It's short and sweet, but with a fun little plot that doesn't drag out the conclusion. For some it may end abruptly, but I think it's a smart choice. We all know that Archie isn't going to leave Riverdale permanently and dragging that decision out would have just been painful. Instead, Hitting A Sour Note shows you where Archie's heart lies and leaves it at that.
The problem is that the further you read into World of Archie Jumbo Comics Digest #71, the more apparent it becomes which kind of comics are collected in this volume. For some reason, it seems as if every comic where Archie is straight-out rude to the female cast is highlighted. In fact, it's not just Archie who falls prey to this straightforward dismissal of characters such as Betty, Veronica, and Ms. Grundy. Jughead, Reggie, and even Mr. Weatherbee get in on the mean-spirited, "it's a man's world" rhetoric.
Some of the most glaring examples show up in the Weatherbee and Grundy-centric issue, Sheer Poetry. Despite needing his help he's incredibly dismissive of her talents and ability to do her job. And though Ms. Grundy does get her comeuppance in the end, it doesn't feel like a real win thanks to it relying on the "domineering wife" trope. Add that to Archie coaching "powder puff" football complete with stereotypically buff female players in "Coach Reproach" and the reactions that come with it, and you're left with some cringe-worthy moments.
It's not just the ladies who are the target of some bumpy comics. Even poor Moose has a rough go at it in his Archie 1: The Dawn of Time issue. They seem to be the biggest offender in the bunch from the Archie gang's mocking of Moose to their painting of Archie as someone who doesn't want girls anywhere his "new" sport "flog".
There are a lot of great comics tucked away in this digest. The music-themed issues such as The Teen Club are great with cameos from Archie and Jughead's grandparents and the two-parter Power Mad is a fun read. But they can't make up for the sudden and startling animosity in the comics they're sandwiched between.
World of Archie Jumbo Comics Digest #71 is available now for $6.99.
What people say... Leave your rating
Order by:
Be the first to leave a review.
Show more
[rwp-review-form id="0"