Writer's Commentary – Anthony Del Col On Nancy Drew & The Hardy Boys: The Big Lie #5
Dynamite has sent us a writer's commentary by Anthony Del Col on the fifth issue of Nancy Drew & The Hardy Boys: The Big Lie with covers by Fay Dalton and Elsa Charretier, interiors by Werther Dell'Edera.
PAGE 1
Nature vs. nurture.
That's a big theme of this issue – and the entire series. The three leads – Nancy Drew, Frank Hardy and Joe Hardy – are, at their core, good people. But in order to do some good they have to go bad. Can they truly change in order to accomplish their goal? Is it against their nature?
So I decided it would be fun to go back into the Hardys past and see what their ancestors are like… and I decided that their past would be mixture of good and bad. Some petty thieves, some very noble citizens. So the Hardys have both moral and immoral blood inside of them. Which means… it's up to them to really figure out what they can and can't do.
(Small side note – I will admit that some of this is inspired by my own personal family tree. My grandparents immigrated from Ukraine so that's why one of the Hardy's ancestors is Ukrainian. A small little plug for my people!)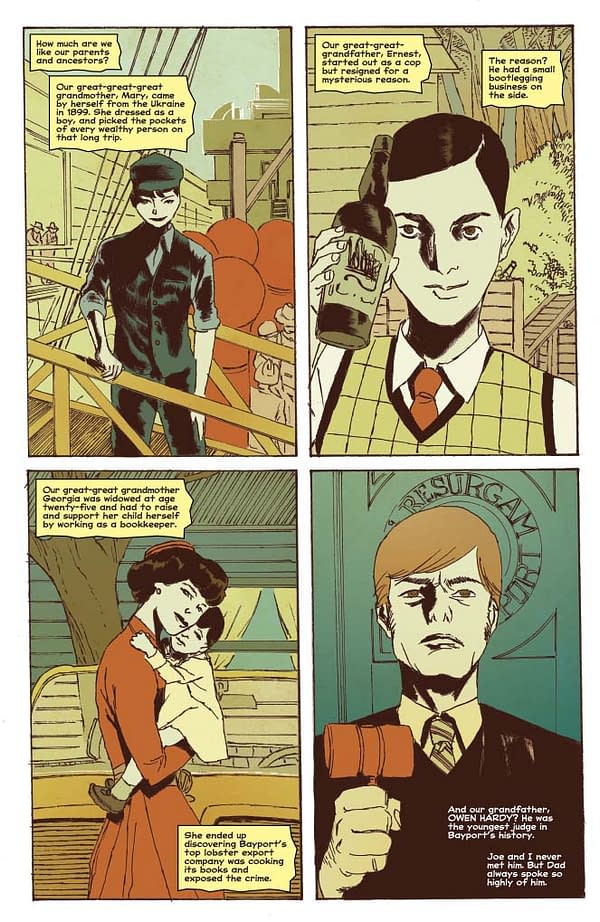 PAGE 2
On the first page we have the past… and on this page we have the present. I always like to point out early in each episode a key distinction between Joe and Frank. And in the first two panels we are reminded that Joe can be the gloomy, worried brother while Frank is the more optimistic one.
And I would be remiss if I didn't point out the excellent artwork by artist Werther Dell'Ederra. Panels 1 and 2 are glamor shots of the two brothers, while in Panel 3… ouch. Poor Sam Rover, now dead at the hands of… well, they don't quite know (yet). PAGE 3
One of the difficult things in his series is to make it clear who's narrating each issue. For the first half of this issue it's Frank. On the previous page we have him address himself in first-person while he looks at Joe and describes him. And on this page it continues as he's driving the conversation and persuading the Rover brothers what they should be doing.
But what does Frank's brother Joe think of it…? PAGE 4
Let the rumble begin!
How many times in Hardy Boys' history have the two brothers really fought each other? There's a small skirmish in our first issue but this is the real deal. One of the small little jokes through the series is that Frank has constantly been the one beaten up (instead of the bigger, more belligerent Joe) and this continues on this page.
I love not only what Werther did here but also colorist Stefano Simeone. The mix of blues and purples on the preceding pages and this one as well is really strong. I love how the blue is used to bring out the CRUNCH of Frank getting hit. PAGE 5
Remember how on the previous page I said that Frank has been beaten up this entire series. On this page he's now had enough and is (finally) hitting back. He gets in a couple good punches on Joe here, with great artwork by Werther. PAGE 6
The big reason that I wanted a three-page fight scene in this issue is that it's directly coming after the discovery of Sam Rover's body. Realizing that they're indirectly the reason for Sam's death has added a HUGE amount of stress and frustration to the two of them. Everything is coming to a head at this point – the death of their father, the unraveling of the mystery, the sacrifices they've had to make to get to where they are. But they don't like what they're becoming, and they're taking it out on each other.
PAGE 7
And now we have Nancy Drew standing up as the voice of reason. She's the one that gets the two brothers to stop (temporarily). I like how in Panel 1 Werther's got everyone's faces in half-shadow to emphasize how they've all become both good and bad through this story.
The final panel is a direct inspiration from one of the greatest shots in film history, from The Searchers (replicated in many films, including Saving Private Ryan).
PAGE 8
With Frank's sore face (and ego) it's Nancy's turn to step up and be the voice of reason. As well as the voice of strategy. And how does she convince them? Well, though they didn't get along with Sam, he's family. Yes, the theme of family is again coming forth…
I really like the fifth and final panel of the page, where Ricky and Teo realize that Nancy's right. Again, great work by Werther to cast the two brothers in shadows through this scene.
PAGE 9
There was one reviewer recently who commented that most of this book takes place in the night hours. I had already planned for a number of scenes in this issue to be set during the daytime – not because of the reviewer but because I wanted it to be a sharp contrast to the darkness of the previous pages (and issue). In the light of the day, will our heroes continue their ways?
I also enjoyed (like I did in Issue #4) bringing a small, supporting character, Detective Peterson, back on this page. He's one of those really incompetent policemen that's risen through the ranks of the police department through sheer attrition and luck, not skill or talent. And Frank's decided that they'll use his bumbling nature to help them hide the evidence.
PAGE 10
As I wrote this issue I was in the middle of watching the first season of Riverdale. I almost changed this scene to another location instead of a diner (which is one of the major meeting spots in Riverdale) but decided to keep it there. Why do these sorts of stories feature diners? I think it's because it's one of the great symbols of "all-American" or "small town USA". It's a safe, comfortable spot we've all been to.
PAGE 11
A nice scene between Frank and Nancy. A lot of readers and fans I've spoken to have asked if a romance will develop between Nancy and one of the brothers. It's something that I haven't had much time to explore in this first arc because of the major plot and individual character moments I've needed to include, but when we start the second arc (2018!) it's something I'll add more of.
But at its core, this scene is about nostalgia for when things were simpler for these two characters. The time when they were 7 years old and fighting "bad guys" in caves. If only life were that simple again…
And, as I've said a number of times, this issue (and series) is all about family – and the terse conversation between Nancy and her father on Page 10 and recapped here is another sign of how family relationship evolve over time. Will Nancy and her father actually start to talk about what's happening between them? We'll find out more as this issue goes on…
COVER A (FAY DALTON)
Ah yes, the Usual Suspects cover… As soon as we started to work on this series I had a vision of the two Hardy brothers in a police lineup. It was a central image that stuck with me – so when Fay and I chatted about ideas for this issue and we knew there was a big fight, Fay realized this would be the perfect time to put the cover together. I love her take on Joe here – full of swagger and attitude. COVER B (ELSA CHARRETIER)
In Issue #3 Elsa did one of the best covers of the entire series so I was excited to have her come back and do another one. And when we told her the issue pitted the two brothers against one another, she went to town on that idea. Elsa's one of my favorite artists working today and I love how influenced by Darwyn Cooke she is. To me this is a cover that Darwyn would have loved – and I know that I love it. My favorite panel is on the far right, where Joe and Frank and hunched over, ready to fight. It reminds me of the rumble scene in Rebel Without a Cause – one of my favorites. For more on Nancy Drew and the Hardy Boys: The Big Lie #5, click here.