2023 Game Developers Choice Awards Reveals Full Nominees List
We have the full list of nominees for the Game Developers Choice Awards happening during GDC this year, as they will take place in March.
---
Organizers behind the 2023 Game Developers Choice Awards have revealed their full list of nominees for this year's awards show. The nominees are picked by game developers from across the industry as they attempt to highlight the best the industry had to offer over the previous calendar year. Leading the nominations are Elden Ring and Stray, with six total nominations each, followed by God of War Ragnarök with five. All three are up for Game of the Year, as they are also competing against IMMORTALITY, Pentiment, and TUNIC. You also have the chance to vote for who you believe should win as they have opened up voting to the public. You can see the full list below, as the 23rd annual awards showcase will take place on Wednesday, March 22nd, during the Game Developers Conference in San Francisco.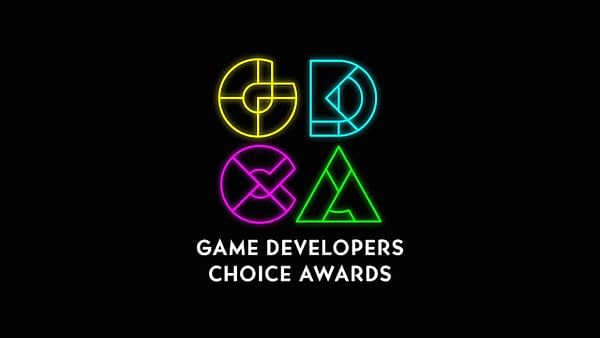 2023 Game Developers Choice Awards Game Of The Year
Elden Ring (FromSoftware Inc./Bandai Namco Entertainment)
God of War Ragnarök (Santa Monica Studio/Sony Interactive Entertainment)
IMMORTALITY (Sam Barlow/Half Mermaid)
Pentiment (Obsidian Entertainment/Xbox Game Studios)
Stray (BlueTwelve Studio/Annapurna Interactive)
TUNIC (TUNIC Team/Finji)
Best Audio
Elden Ring (FromSoftware Inc./Bandai Namco Entertainment)
God of War Ragnarök (Santa Monica Studio/Sony Interactive Entertainment)
Horizon Forbidden West (Guerrilla Games/Sony Interactive Entertainment)
Metal: Hellsinger (The Outsiders/Funcom)
Stray (BlueTwelve Studio/Annapurna Interactive)
Best Debut
Neon White (Angel Matrix/Annapurna Interactive)
NORCO (Geography of Robots/Raw Fury)
Stray (BlueTwelve Studio/Annapurna Interactive)
TUNIC (TUNIC Team/Finji)
Vampire Survivors (poncle)
Best Design
Elden Ring (FromSoftware Inc./Bandai Namco Entertainment)
Marvel Snap (Second Dinner Studios, Inc./Nuverse)
Neon White (Angel Matrix/Annapurna Interactive)
Stray (BlueTwelve Studio/Annapurna Interactive)
TUNIC (TUNIC Team/Finji)
2023 Game Developers Choice Awards Innovation Award
Elden Ring (FromSoftware Inc./Bandai Namco Entertainment)
IMMORTALITY (Sam Barlow/Half Mermaid)
Neon White (Angel Matrix/Annapurna Interactive)
Pentiment (Obsidian Entertainment/Xbox Game Studios)
Stray (BlueTwelve Studio/Annapurna Interactive)
Best Narrative
God of War Ragnarök (Santa Monica Studio/Sony Interactive Entertainment)
I Was a Teenage Exocolonist (Northway Games/Finji)
IMMORTALITY (Sam Barlow/Half Mermaid)
Pentiment (Obsidian Entertainment/Xbox Game Studios)
Return to Monkey Island (Terrible Toybox/Devolver Digital)
2023 Game Developers Choice Awards Social Impact Award
As Dusk Falls (INTERIOR/NIGHT/Xbox Game Studios)
Citizen Sleeper (Jump Over The Age/Fellow Traveller)
Endling – Extinction Is Forever (Herobeat Studios/HandyGames)
I Was A Teenage Exocolonist (Northway Games/Finji)
OlliOlli World (Roll7/Private Division)
We Are OFK (Team OFK)
Best Technology
A Plague Tale: Requiem (Asobo Studio/Focus Entertainment)
Call of Duty: Modern Warfare II (Infinity Ward, Raven Software, Beenox, Treyarch, High Moon Studios, Sledgehammer Games, Activision Shanghai, Demonware, Toys for Bob/Activision)
Elden Ring (FromSoftware Inc./Bandai Namco Entertainment)
God of War Ragnarök (Santa Monica Studio/Sony Interactive Entertainment)
Horizon Forbidden West (Guerrilla Games/Sony Interactive Entertainment)
Best Visual Art
Elden Ring (FromSoftware Inc./Bandai Namco Entertainment)
God of War Ragnarök (Santa Monica Studio/Sony Interactive Entertainment)
Horizon Forbidden West (Guerrilla Games/Sony Interactive Entertainment)
Pentiment (Obsidian Entertainment/Xbox Game Studios)
Stray (BlueTwelve Studio/Annapurna Interactive)