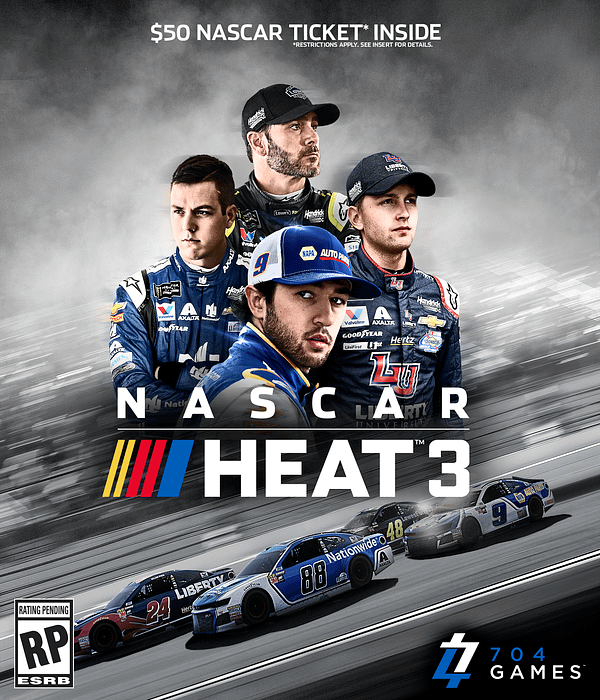 704Games, the official NASCAR Team game licensee, has announced that NASCAR Heat 3 will release in North America this September on PlayStation 4, Xbox One, and Steam for Windows PC.
As you could probably guess, NASCAR Heat 3 is the sequel to NASCAR Heat 2 and will again be developed by Monster Games. The third game in the series comes with a variety of new features, including a deeper career mode, additional race tracks, expanded online multiplayer features including online tournaments, and a brand-new fantasy dirt-racing experience: the Xtreme Dirt Tour.
The Xtreme Dirt Tour allows players to compete across eight new dirt tracks in a separate career mode in the NASCAR Camping World Truck Series, NASCAR Xfinity Series, and Monster Energy NASCAR Cup Series.
Players will also be able to manage their own race teams as team owners in Heat 3.
The cover of NASCAR Heat 3 features 12-time Monster Energy NASCAR Cup Series champions Hendrick Motorsports and the team's star drivers Chase Elliott, William Byron, Jimmie Johnson, and Alex Bowman.
"NASCAR Heat 3 will be the biggest NASCAR console game we've ever released," said Paul Brooks, CEO of 704Games. "Partnering with a powerhouse like Hendrick Motorsports, with its exciting combination of drivers, was a natural choice to honor the spirit of innovation and excitement we're delivering to fans in NASCAR Heat 3."
"It's cool to join my three teammates on the cover," said seven-time Monster Energy NASCAR Cup Series champion Johnson, driver of the No. 48 Lowe's Chevrolet Camaro ZL1. "A big part of our fanbase has a passion for gaming and for the NASCAR Heat franchise in particular. The details incorporated into the new game are amazing and will give players a really fun experience."
NASCAR Heat 3 has also expanded its race-ticket coupon program, established with NASCAR Heat 2. Fans who purchase or pre-order NASCAR Heat 3 at retail will receive a $50 race-ticket coupon. Coupons can be redeemed toward the purchase of any ticket for a NASCAR-sanctioned event at any one of Speedway Motorsports, Inc.'s eight tracks, as well as Dover International Speedway and Indianapolis Motor Speedway, through 2019.
NASCAR Heat 3 is available to pre-order today for $49.99 at physical retailers with digital pre-orders available soon. The game will launch on September 7, 2018 for PlayStation 4, Xbox One, and PC.
You can check out the latest trailer below.
Enjoyed this article? Share it!