Anthem Hidden Message Corroborates Development Trouble Reports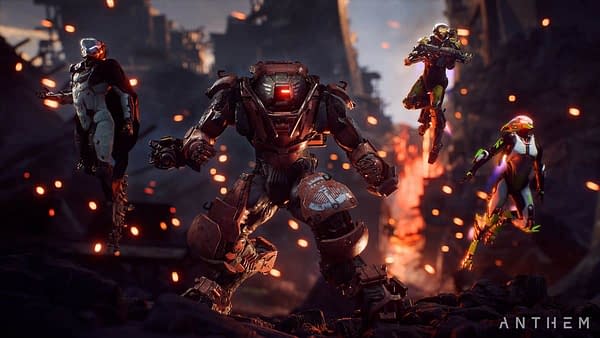 BioWare and EA's Anthem has had a troubled few months since it launched back in February. Between game-breaking bugs, underwhelming gameplay, broken matchmaking, and bricked consoles just about everything that could go wrong with a game launch happened to Anthem.
And then Kotaku published a report on the incredibly problematic development cycle that led to such an unfinished game getting released. Since then, BioWare and EA have shut down all speculation of industry-wide problems like rushed release windows, last-minute changes, and mismanagement. Meanwhile, according to Kotaku's sources at BioWare, the company held an "all-hands on deck" meeting this past Wednesday to address the issues.
So clearly, something's rotten in the state of Edmonton. We just don't know what.
But all the rumor and speculation has led to players taking deeper looks into the game code of Anthem. Which resulted in a rather interesting find.
The Cortex item "What Does It All Mean?" has an item description that might be a bit more than just flavor text.
From Gamerant:
Players found the Cortex item "What Does It All Mean?" on the northern edge of the map, and while its text may have been at first overlooked and accepted as just another piece of in-game lore before the news of Anthem's development problems, it is now hard to read it without connecting it to the issues that BioWare's developers experienced on the project.

One of those reported issues was that Anthem spent years of its development in limbo without any clear direction on the game with new ideas cropping up and then those ideas changing again and again, including meetings where no decisions were made, leaving developers confused about what exactly to be making. According to Schreier's report, when developers brought up these concerns with the game's leads and directors, they were shrugged off. The entire first part of the in-game Cortex item seems to be alluding to this specific lack of direction developers were receiving on Anthem:

I ASKED THE ARCANISTS WHAT THE MEANING OF THE WORLD WAS, AND THEY COULDN'T TELL ME. THEY HAD A LOT OF THEORIES. A LOT OF IDEAS. A LOT OF HOT AIR. THE TRUTH IS: NOBODY REALLY KNOWS. SHOULDN'T THAT WORRY PEOPLE? WHENEVER I BRING IT UP, THEY JUST SHRUG. HOW CAN THEY NOT CARE? HOW CAN SO MANY PEOPLE BE ASLEEP?

But the game had to launch to meet EA's fiscal year, as hinted at by former BioWare general manager Aaryn Flynn, so the bulk of the game had to be developed in the last 18 months before launch. That included the narrative, which was reportedly largely created very late in the process.
Now, there's nothing super damning in the cortex item's description. But when paired together with what we know about the development process of Anthem and the knowledge that writers often find inspiration for things in their personal lives, and you really have to wonder if this might be a hidden message by the dev team.
It certainly seems to corroborate much of what sources have told Kotaku's Jason Schreir.
And it is eerily reminiscent to some of the hidden messages found in various Metal Gear Games about the reality of working with Konami.
So it wouldn't be far-fetched to think this was a cry for help from an overworked dev or two.