"Apex Legends" is Hosting a Wraith Voidwalker Event
EA and Respawn will be hosting a new Apex Legends event called "Voidwalker" which will run from September 3-17, 2019. As you might have guessed from the event name, the whole thing is centered on Wraith, specifically her mysterious past.
For those who are somehow unaware, Wraith is one of Apex Legends' original Legends characters, and is a stealth specialist. She can even become nearly invisible, which allows her to hit enemies quickly. Her small size is also a bonus, which makes her one of the more popular character choices in the battle royale.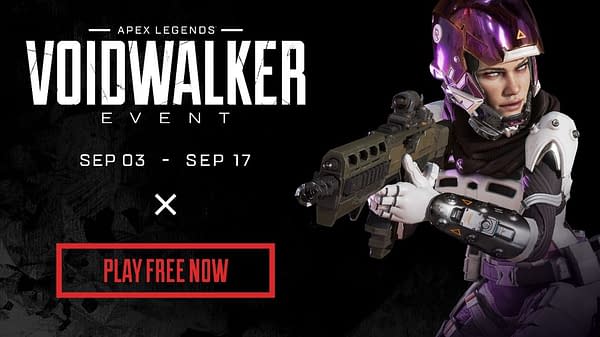 The event will feature exclusive content, with some highlights including:
Wraith Town Takeover – Discover the mysterious remains at the Wraith facility in Kings Canyon, including a functional prototype portal that can be used to get an early jump on the base.

Limited Time Mode: "Armed and Dangerous" – A brand new mode where weapons are limited to snipers and shotguns, while other loot will be much harder to come by.
Themed Content – Complete challenges to earn exclusive skins and Wraith-themed limited time event.

Double XP Weekend – Earn double XP for Top 5 finishes and wins. This bonus will affect both Account Level and Battle Pass progression.
You can check out the full details on the EA blog, here.