Do you have what it takes to rule over Apex Legends as a solo player? Respawn Entertainment has kicked off a new Iron Crown Collection Event. Starting today until August 27th, the game will have a single-player mode where it's you against 59 other players. The event will also have what the devs are calling "an adrenaline-pumping town takeover designed by Octane himself." You can read more about the event below along with the new trailer, or get finer details to what's happening here.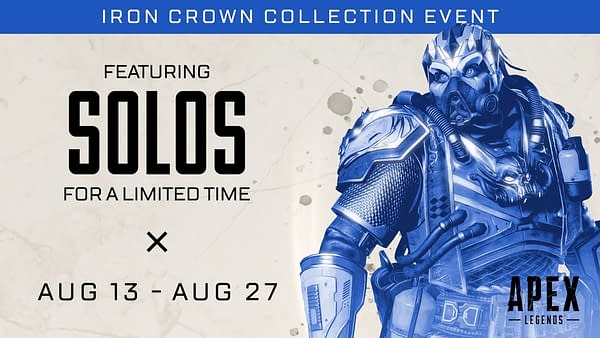 No guts, no glory. The Apex Legends Solo mode is here for players who have what it takes to become an Apex Legends Champion alone. Without any squadmates to watch their back, ping loot, or deliver them to a respawn beacon, players who drop into this new mode will have to adapt their strategies if they want to be the only Legend to make it out of Kings Canyon alive.

Octane's Town Takeover will add a new rush of thrill-inducing action to Kings Canyon. The stadium, located at a coastal settlement to the west of Skull Town, features something new for the daredevil in all Legends: a mega jump pad course, stunt ramps, and plenty of fire are waiting for Legends looking to show off while they take down.

From August 16 – August 18 players will also score double XP for Top 5 finishes and wins which applies to both Account Level and Battle Pass progression.

Throughout the Iron Crown Collection Event, players can battle it out in style as new Legend skins, weapon skins, banner frames, and poses will be available for a limited time. These exclusive Iron Crown cosmetics can be found in Iron Crown Collection Packs. Players can earn two free packs by completing special event challenges, with additional packs available for purchase. Iron Crown Collection Packs offer a 50/50 probability for Epic or Legendary items only. No duplicates, commons or rares – only top tier items.
Enjoyed this article? Share it!