Rare 'Magic: The Gathering' Card Sells for Over $87k
Back in the day, when Magic: The Gathering first released their Alpha, Beta, and Unlimited editions, no one had a clue keeping them would be lucrative. Sure, there's always collectors of everything, but nothing is a guarantee A lot of things can change in 25 years, and a rare Black Lotus card from 1993 has now been sold for over $87k.
The actual grand total is $87,672, as reported by Kotaku, when the sale closed on eBay this week. No word as to who the buyer was who had that much cash to burn on a card that, for all intents and purposes, is useless beyond display and reselling down the road if it doesn't go down in value.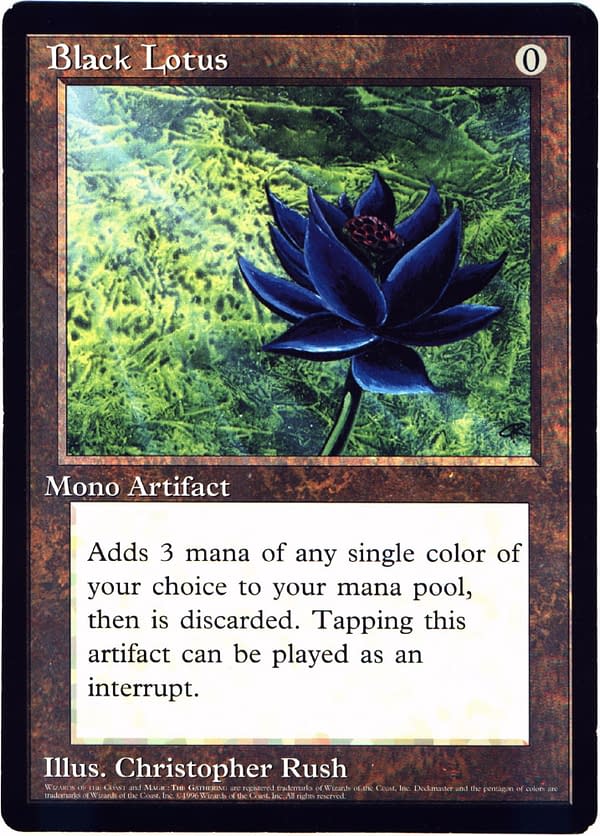 In case you're not familiar with what this card is and why it's so valuable, here's a quick history lesson.
When the game first came out, Alpha and Beta were basically all there was to Magic: The Gathering, with some cards being much rarer than others. The artifact known as Black Lotus happens to be one of those original rare cards, which by itself is pretty powerful as you get three mana instantly by tapping it. Some have called it overpowered, like Fork, Ancestral Recall, or Timetwister, but that's another topic altogether. Over the years the card has been re-released in few selective sets like the Collectors' Edition and Vintage Masters, but the original remains pretty valuable. You can identify it by the black border for being original, as re-releases have a white border, like the Unlimited version that can be sold for $8k online.
Congrats to the seller, and the buyer, I guess. If you're really into MTG and your jam is owning cards you can't play, all the happiness in the world to you.