Bandai's Digimon Card Game A Massive Hit In Japan
Digimon has always been a major franchise in Japan. From video games like Digimon World and Digimon Rumble Arena to the Digimon Digi-Battle Card Game, to the eponymous animated television show, the franchise has generally been successful. In the United States, this craze was mostly overshadowed by Pokémon, but Digimon remains a force to be reckoned with elsewhere. Now, Bandai, a major player in the franchise's longevity, has released a new card game in Japan for the Digimon franchise, and fans in the US want a slice of the digi-pie, so to speak.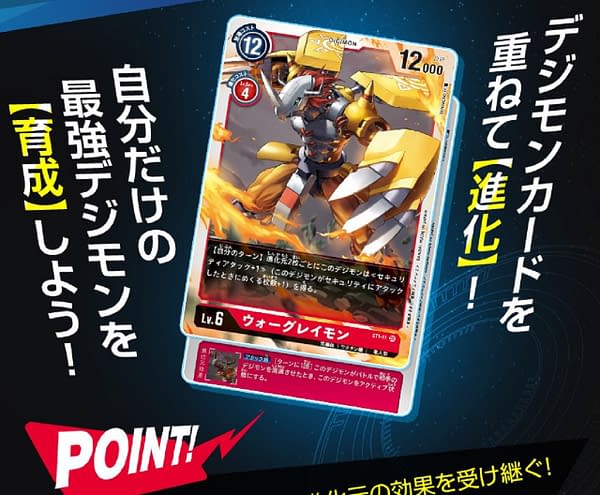 In a recent petition on Change.org, its creator makes a couple of fairly reasonable requests:
A free, online and constantly updated smartphone application or PC platform, which will help people learn the game, test their decks and play with others
Well-established local and international competitive tournaments
Well-spread out releases of booster boxes, premium products and collectors' items
Given the seemingly-explosive popularity of the Digimon Card Game in Japan, potential players from the United States, the United Kingdom, and even areas like Brazil are signing their names to try and get this game to their locales.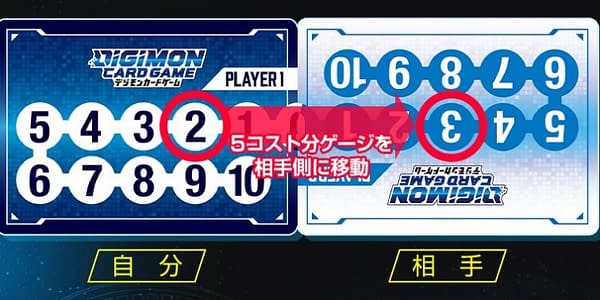 We here at Bleeding Cool have been looking into learning how to play this game, and while there are a few things that need ironing out, some concepts have been made clear:
The Chrono Clash gauge that has been used in various card games produced by Bandai is seen here with the Digimon Card Game. Basically, the gauge starts at zero at the top of the game, and players can play any cards they wish but if the gauge goes past zero it's their opponent's turn and that opponent starts with the gauge at zero minus the overlapping cost of the last card played. It sounds complex but the image above helps to illustrate the intent.
There's a "prize" system similar to the Pokémon Trading Card Game. There are 5 cards set aside at the beginning of the game and as your opponent's Digimon attack you, those cards dwindle. However, your own Digimon can block the attacks.
On that note, there's a power system not terribly unlike CardFight! Vanguard or other games of that sort. To defeat a Digimon you need higher digi-power, or DP, than the opposing one, and as you evolve (or, in terms specific to the franchise, "Digivolve") your Digimon, it stands to reason that it'd have greater power.
These are just the basics of the game's mechanics as we have grasped them so far. There is likely much more complexity to the basis of the game than this, but it seems fairly intuitive. In any case, the game looks fun and we would love to demo it if it ever comes out in America.