Bendy and the Ink Machine on Xbox is Gorgeous and Immersive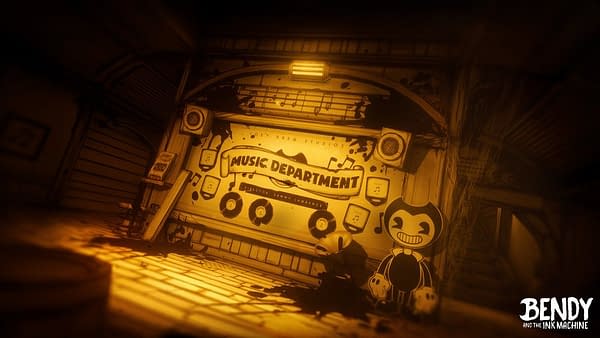 The Meatly Games and Joey Drew Studios' Bendy and the Ink Machine is hauntingly immersive and terrifyingly gorgeous. The game tells the story of an animator who lost himself to insanity in one of the most aesthetically pleasing ways I've seen portrayed in a video game. While Bendy is already out on PC, the game's final chapter is releasing on Steam at the same time as the full Xbox One, PS4, and Nintendo Switch versions go live.
I got the chance to demo the Xbox build of the game at Microsoft's ID@Xbox PAX West showcase, and found the game to be more immersive than something with a sepia-toned color palette should have any right to be. However, the game drops you straight into the story with little prevarication, tons of atmospheric lighting, an uncanny soundtrack, and ominous puddles of ink everywhere you turn.
While not a horror game, Bendy and the Ink Machine does have some classic horror touches to the cinematics and storytelling. However, at its heart, Bendy is a puzzle game.
Despite the simplified controls and simple puzzles, Bendy and the Ink Machine makes up for its shortcomings with a ton of panache and some incredibly good storytelling. This is definitely one to check out if you've got even the slightest love of a good indie game.
Bendy and the Ink Machine is releasing on Xbox One, PS4, and Nintendo Switch on October 12th, 2018 alongside Chapter 5 of the PC version.