Black Desert Launches Its 2021 Halloween Event Today
Pearl Abyss has finally launched the annual Halloween event into Black Desert as the game will get a little more spooky for a few weeks. PC players get access today while console players will get access tomorrow, as the event will run all the way through November 10th. Along with all the events we have listed below, the team is treating the community with a free DLC package that can be downloaded from Steam and the official Black Desert website. This special package includes a few items including an event Treasurable Memories Classic Box, Combat & Skill EXP 300% Scroll (60 min) x5, and Advice of Valks (+60). For console players, the Special Gift Pack includes the same costume and other useful items is free through each of the respective shops.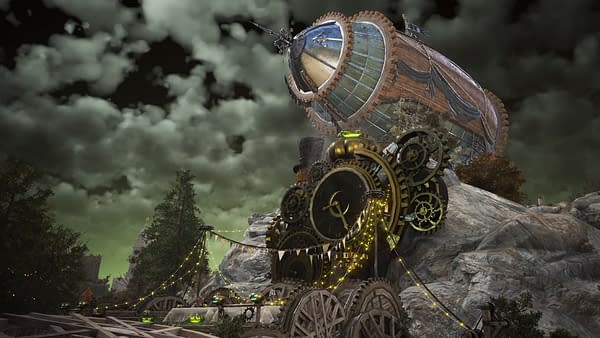 Mad Scientist Marni has built a Spooky Playground for Halloween, specially designed to send shivers up one's spine, that includes a House of Horrors containing a chilling quest where adventurers will need to find the teddy bear of a weeping child. In their search, they will encounter ghosts and traverse other obstacles hidden in the darkness. Adventurers will need to pilot a Mischievous Jack to be able to interact with chests that contain the teddy bear. Completing the quest will reward players with special dice which are used for the mini-game Ancient Black Spirit Adventure. Furthermore, Marni's Spooky Playground is filled with minigames and events that will grant event items and rewards for those who can successfully complete its many challenges. Content includes:

This year, a new array of Halloween-themed activities will be available including a Red Light, Green Light minigame, where adventurers need to play a thrilling version of the popular children's game.
Near NPC Marcellin two robot-esque creatures named MOD Oog Mk IV and Mk V are fighting and adventurers can try to predict the winner and earn rewards.
Marni has quests leading adventurers to his hidden gifts and event dice, the latter of which can be used in a special Halloween-themed "Ancient Black Spirit's Adventure" board game that can be played from Black Desert's menu which can grant players even more rewards.
Adventurers can explore Marni's Spooky Playground and be rewarded with a Wizard Gosphy pet!
Halloween brings new attendance rewards that will help adventurers on their spooky adventures. The rewards include 100 Cron Stones, Halloween Cosplay Box, and Marni's Fuel Box.