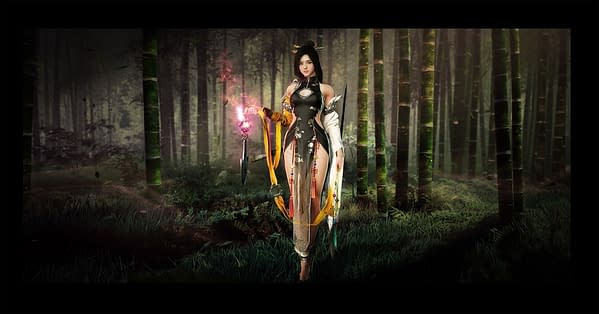 Pearl Abyss and Kakao Games have announced a brand-new class for Black Desert Online. The Lahn class will make it into the game on May 23rd, 2018. The Lahn's got some unique capabilities, and her moveset and fighting style will allow Black Desert fans to enjoy the game in a whole new way. With this latest addition, the MMO now features 16 diverse character classes, all of which have unique real-time action combat abilities.
The Lahn is a martial arts master class, so naturally has some similarities to various other fighting games. As for her backstory, the Lahn is a priestess who fell for an evil scheme that cost her the life of her lover. Aggrieved by the loss, she embraces strength as the only way to achieve her goals, which causes her to embark on a journey in search of greater power. Kind of basic RPG backstory, but it serves its purpose.
Despite the generic backstory, she's got a special main-hand weapon that makes her a bit different from other martial arts classes. The Crescent Pendulum is a crescent-moon shaped blade on the end of a long piece of cloth which she can throw and swing. Add that to her short blade, the Noble Sword, and the Lahn is a speedy, agile class with a dancer-like moveset.
In addition, during the upcoming Subscription Event running from today May 9 (after maintenance) through May 23 (before maintenance) new and existing players that subscribe to the Black Desert Online newsletter on the special event page will be rewarded with three in-game items: Sealed Book of Combat (7D), Blessing of Kamasylve (7D) and Gold Bar 100G.
You can see the Lahn class in action in the new spotlight trailer below.
Enjoyed this article? Share it!