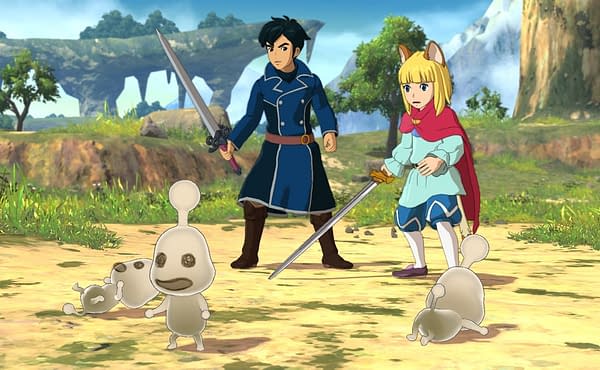 Bandai Namco has been releasing a ton of trailers in the run up to the release of Level-5's JRPG Ni No Kuni II: Revenant Kingdom. The first is a behind-the-scenes video released last night that goes into the visual development process for the game, with a focus on lighting, shadows, and Level-5's attempt to make the game look like a 2D anime despite featuring 3D graphics.
The design process was explained by Art Director Nobuyuki Yanai and you can check it out below.
The second video is a character profile on Roland, the mysterious President from another world brought to the land of Ding Dong Dell to assist Evan. Roland functions as both protector and mentor to Evan throughout the game, providing him with a suitable role model for what a proper leader should act like.
One of the core mysteries of Roland's character arc is just why he was brought to Ni No Kuni and how exactly he'll return to his own world. If he chooses to return to his own world.
You can check out the character highlight reel for Roland below. Ni No Kuni II: Revenant Kingdom will launch for PS4 and PC on March 23rd.
Enjoyed this article? Share it!