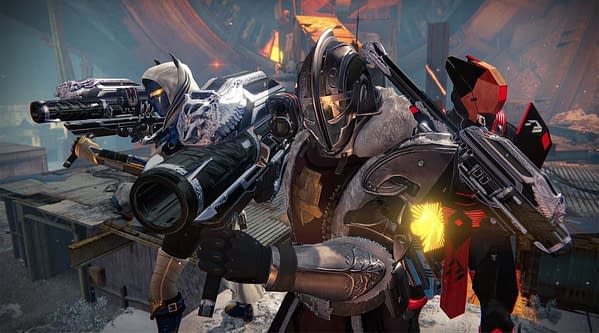 Destiny 2 released in 2017, following the original game's launch in 2014, which means analysts at Cowen & Company are projecting the launch of Destiny 3 to come in 2020. The projection was further bolstered by yesterday's news of the split between Activision and Bungie.
With Bungie getting the Destiny IP rights in the divorce, they have full rights to publish and support Destiny 3 however they like.
From Gamespot:
According to Cowen, Bungie's attempts to broaden the Destiny player community with a more casual friendly Destiny 2 didn't work out, and while Destiny 2: Forsaken was praised by critics and fans, it didn't do a good enough job at bringing back lapsed players.

Cowen estimates that Activision severed ties with Bungie and Activision to focus on strengthening its own fully owned franchises like Call of Duty, even if it meant taking a financial hit in the short term. The upside of investing in its own franchises was greater than continuing to sink resources into an under-performing series like Destiny, Cowen said.

Also in the report, Cowen said Bungie likely paid Activision a fee to reclaim the Destiny publishing rights, but the figure is not likely "enormously significant," it said.

Losing Destiny will hurt Activision Blizzard's bottom line, Cowen said, estimating that the company will announce lowered financial guidance when it reports earnings next in February.

"Ultimately, we think this decision is probably for the best for Destiny as a franchise, as we think having two head cooks in the kitchen with somewhat divergent views created some issues with the development process and led the game down some blind alleys," Cowen said. "Destiny was a worthwhile attempt by Activision to build another cornerstone franchise, one that just didn't quite pan out as they had hoped (underlining once again the high difficulty of creating and managing a successful live service game business), in our view."
Now, the fallout between Bungie and Activision is hardly surprising, but what it does mean is that fans of the original Destiny might get a Destiny 3 they like a whole lot better than even Destiny 2: Forsaken. However, that doesn't address Bungie's biggest challenge which is keeping a writing team around.
That said, given the usual game development cycle, putting a 2020 date on Destiny 3 seems absolutely plausible at this stage.
Enjoyed this article? Share it!