It looks like Resident Evil 2 is going to have some killer sales if the demo numbers are any indication as over a million players have tried it. The image below is from a little bit ago, where Capcom is measuring who is trying out the game and in what region of the world. Japan is leading with North America right behind, followed by Western Europe in third. It's kind of interesting to see the company measure the statistic open and free for people to see as you can actually chart how well people have gravitated to a free one-shot demo.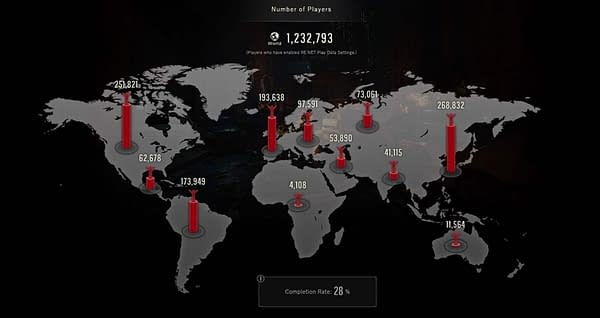 Sadly, the timer on the demo is the real enemy as you can see, 30 minutes isn't enough time for many of the audience to explore and see what the game has to offer in the demo. As of right now, the completion rate is still at 28%, meaning either the game is hard as hell or people are having more fun exploring. But it isn't just telling in how and where the game is being played, but that this could actually help determine sales of Resident Evil 2 when it finally gets released on January 25th. If these numbers are remotely accurate for a look-in audience, the game is already going to do well in sales when it launches.
Enjoyed this article? Share it!