Checking Out New Arcade1Up Cabinets During E3 2019
While we were on the floor at E3 this year, we had to pay a visit to the Arcade1Up booth to see what their latest cabinets were coming out of the show. There were a few new designs that we absolutely had to have in our home, starting with the four-player cabinet for Teenage Mutant Ninja Turtles. This is the classic arcade machine down to the weird design of a human April O'Neil with a camcorder standing around animated turtles. The machine also comes with Turtles In Time, which we saw someone else playing but were still floored that this one existed. This is one of those titles you wish you owned a four-player cabinet for, and how here it is.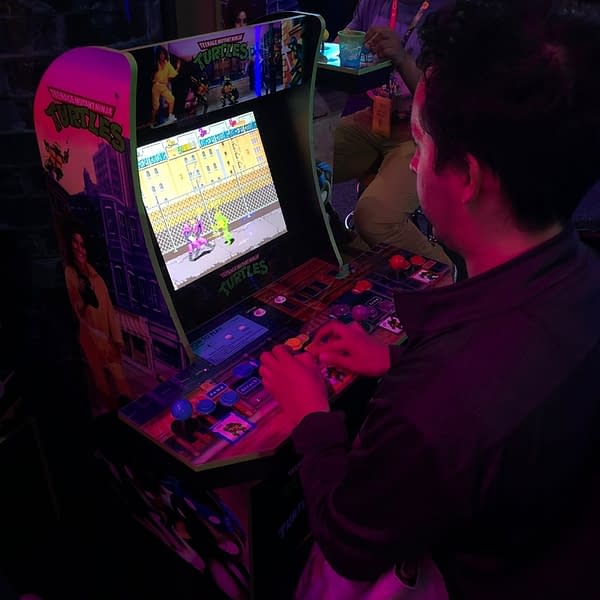 The next big one was Marvel Super Heroes, which was a two-player cabinet and contained all the original Capcom artwork on the sides. Except for the front, which you can see here, comes with two more games for you to choose from. Those being the arcade versions of The Punisher and X-Men: Children Of The Atom. This one was pretty cool to see as I haven't seen much of this particular arcade cabinet since the mid-90s. Which is due, in part, to Capcom quickly sending out X-Men vs. Street Fighter as a replacement to it the year after it came out. This one looks just as amazing, and hey, they apparently got better audio for the game on this one!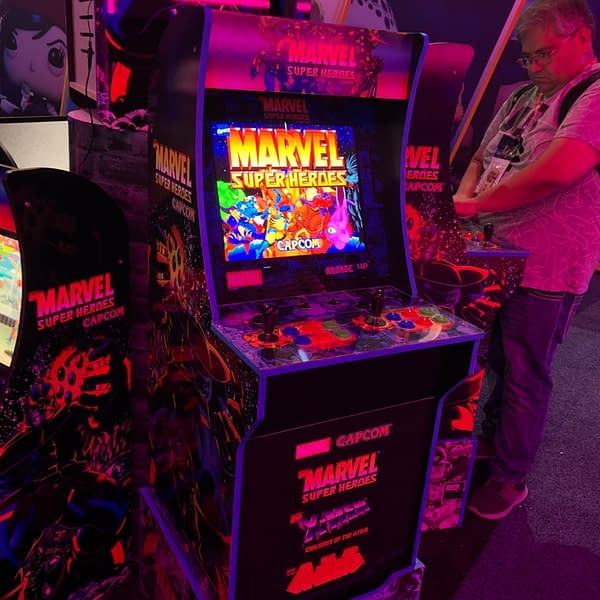 The big item they showed off during the convention was the fact that they got the rights to do the old Star Wars arcade cabinet with the old TIE Fighter controller on the front. This is about as close to the original 1983 model as they could get, and it includes all the arcade titles made in the '80s based on the films. We weren't able to play any of it because what you're looking at here is just the floor model. But I'm looking forward to seeing these guys again to try it out next time.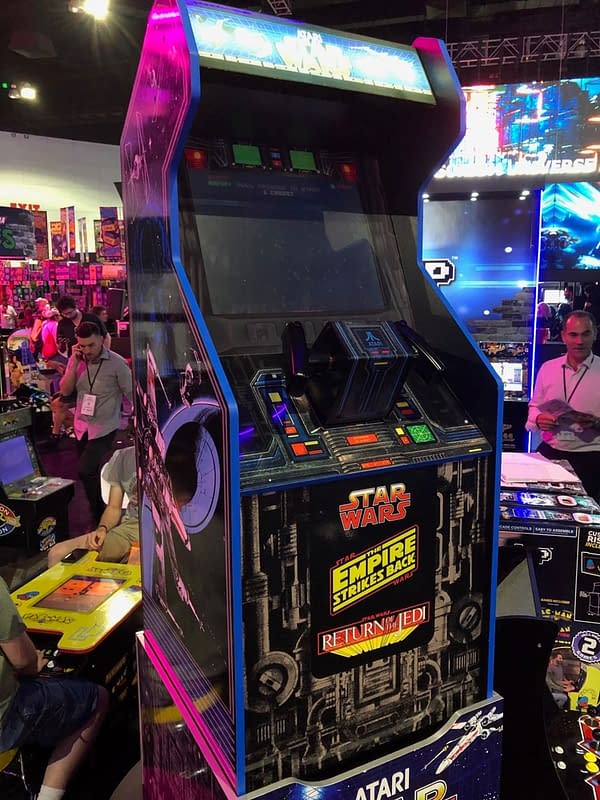 Arcade1Up also had some cool designs to show off, starting with the table versions of their previous machines like Centipede and Space Invaders, giving you a smaller version as a one-player experience. They also showed off this new table designs for Pac-Man and Street Fighter II, which are a bit of a combination to old restaurant-style tables and Japanese arcade bar tables. There's a lot of cool things coming from the company and we basically need to own all of it. Enjoy checking out our photos of their booth as we anxiously wait to see if we might be able to review one of these in the future.