Cities: Skylines is Going to College with the Campus Update
If you felt like the massively immersive city building simulator Cities: Skylines was missing out on a big opportunity for higher education, you need wait no longer. Paradox Interactive and Colossal Order have announced the next DLC for the game, which is the Campus update to add University life for all your city inhabitants. The Campus update lets you start several schools from a Liberal Arts college to a Trade School.
Players can increase the reputation of their city campuses by attracting students and creating "Academic Works." They'll also have access to five types of varsity sports arenas, nine unique faculties, seven new policies, seven new achievements, and five new maps to tie the whole thing together.
The Campus update will hit Cities: Skylines on May21, 2019.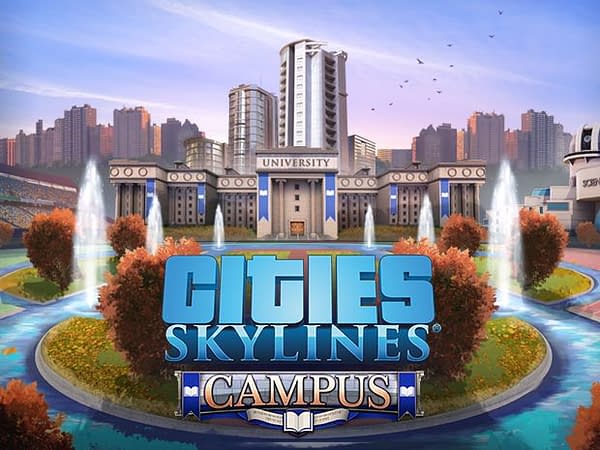 As always, Cities will be debuting a few free DLC in addition to the paid Campus upgrade. The free DLC for Cities include two new radio stations and a new content creator pack, plus two new library buildings, a new yellow school bus, new job titles in the citizen info panel, and new industry policies:
Cities: Skylines – Content Creator Pack: University City
Give your city that real "university town" look and feel with a selection of new building spawns designed by Mike "KingLeno" Leno. For $4.99 MSRP, University City adds 36 low-density residential buildings, 32 low-density commercial buildings, and 15 props including commercial signs and logos to reflect the student residents in your neighborhood!

Cities: Skylines – Deep Focus Radio
For those late night term papers or relaxing city-building sessions, Deep Focus Radio has the chilled-out ambiance you need. For $3.99 MSRP, enjoy a selection of Ambient and Lo-Fi study music presented by DJ "Deep Thought." This station comes with 16 unique tracks that will help you to focus on what's truly important: perfect street layouts.

Cities: Skylines – Campus Rock Radio
Relive your freshman year with a collection of College Rock, Teen Pop, Happy Punk, and Power Chord music. For $3.99 MSRP, let DJ Claude Couture spin the tracks of your higher education with 16 unique songs!
Cities: Skylines – Campus will release on May 21, 2019 for $12.99 USD. You can check it out in the trailer below.
Key Features:

Degrees of Freedom – Design your own campus based on three area types – Trade School, Liberal Arts College and University. Increase reputation by attracting students and creating Academic Works to unlocking new buildings!
Var-City Sports – Bring college sports to your city by building football, basketball, baseball, track & field, and swimming arenas. Manage your teams, hire coaches, sell tickets — and collect prizes for winning matches! Customize your teams with unique jerseys and increase their chances of winning with cheerleaders and coaches.
Syllabuster – Employ seven new policies including book fairs and for-profit education. Sponsor academic works by handing out research grants and supporting the staff.
We Fancy – Display your scientific achievements in Museums.
Cheers! – Celebrate with your citizens during graduation ceremonies.
Ludocartography 101 – Five new maps for your building pleasure.
Three New Chirper Hats – Be the big chirp on campus!