"Cuphead In Carnival Chaos: A Cuphead Novel" Is Debuting March 2020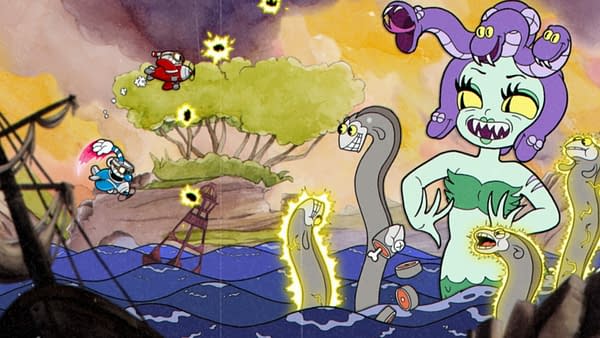 Studio MDHR's unique platformer Cuphead is coming back, just not in the form you may have expected. It's getting its own novel.
The run-and-gun shooter was already confirmed to be receiving a special animated series, so now it's expanding even further with its own book as a tie-in. That means you can watch, play, or read Cuphead going forward.
The book will feature 20 never-before-seen illustrations drawn by Studio MDHR's Lance Miller. They'll include a series of hidden items that should make for a fun treasure hunt. This is the first book in a series, according to the book's product listing, so apparently there will eventually be more on the way.
Here's the official description:
"It's a special day on the Inkwell Isles: Elder Kettle's birthday! Yes, sirree, it's a very special day. So Cuphead and Mugman need to find the perfect gift to honor their beloved mentor. But along the way, the brothers and their new friend Ms. Chalice are captivated by the sights and sounds of the carnival that just rolled into town. Despite Elder Kettle's warning that the attraction is filled with liars and thieves, the trio gets reeled in. At the carnival, the friends are bamboozled and burgled by enemies, old and new. Will they escape the chaos and get their gift before it's too late?"
If you're interested in nabbing a copy, you can do so right now via Amazon. The book is set to launch on March 3, 2020 in both hardcover and digital versions.