Dark Souls Board Game Announces Terrifying New Expansion
Steamforged Games, well known for their original games Guild Ball and Godtear as well as licensed games such as the Resident Evil 3 board game, has released a new expansion for their ever-popular, ever-terrifying board game version of Dark Souls. Called the Executioner's Chariot, solicitations for this expansion begin immediately, and last until July 10th, with the street release date for the expansion being July 20th.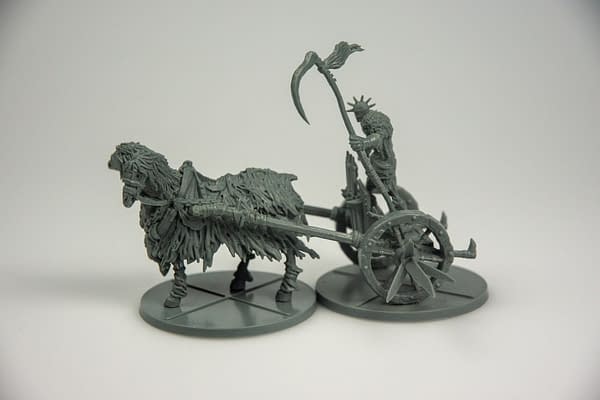 Based on the hit video game series of the same name, the Dark Souls board game is a horrifying and entertaining cooperative game. Geared for 1-4 players of ages 14 years and above, players must navigate a dungeon and learn the tactical weakness of the dungeon's various enemies and, finally, the boss of that dungeon. Much like the video game, it is meant to be played with the expectation that players will often be slain in combat, but thankfully that doesn't end the game. Instead, players return to their starting point – a bonfire – and must prepare once more for the battle ahead. Enemies will also respawn.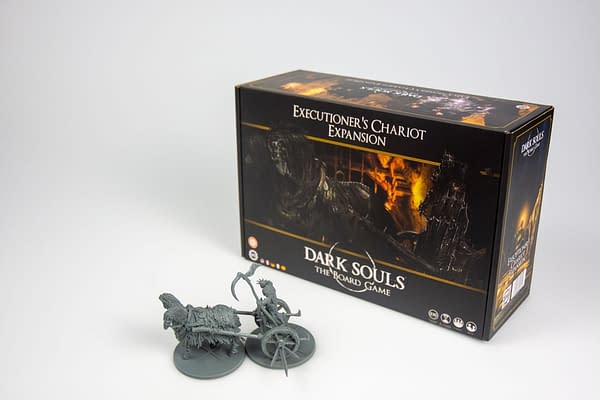 According to Steamforged Games regarding the new expansion:
Gather your courage, for this unholy executioner will stop at nothing to prolong the torment of the undead souls in his charge. Even if the executioner falls, you must still face the malevolent steed that pulls the dark chariot—a beast from a forgotten age of barbarity. Do you have the determination to dismantle the wicked chariot and dispatch the hellish horse? Featuring a terrifying new mega boss, Executioner's Chariot is the first Dark Souls™: The Board Game expansion that includes encounter cards from levels 1 to 4—allowing you to face these fearsome enemies before you even reach the boss tile. Are you up to the challenge?
The expansion pack features six minor enemy models, two boss models (the Executioner's Chariot and his steed), a game board, and "all the cards, health dials, and rules you'll need to play." Also of note: This expansion was not featured in the Dark Souls Kickstarter, so anyone who backed the Kickstarter hasn't gotten a copy of the Executioner's Chariot. Get it soon!