Donkey Kong is Making His Way to Mario + Rabbids Kingdom Battle in New DLC
Nintendo's favorite gorilla Donkey Kong is making his way to Mario + Rabbids Kingdom Battle.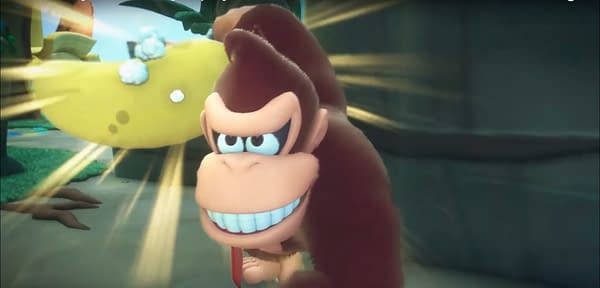 In the main game, there were several direct references to Donkey Kong, the most memorable being a big Donkey Kong Rabbid boss. However, while he was obviously part of the mash-up universe in some capacity, he was noticeably missing from the game's roster. It seems there was a reason for that.
Ubisoft has announced that the character is coming to the title as DLC, meaning the game's pool of playable heroes just got a little bigger. He isn't just getting added to the game as playable, though — he will come alongside a new original story that takes place in a brand-new world. Beyond that, we don't know too much about the content, what the story is, or how long it will be. Here is a trailer for the announcement. It seems… jungley:
What we do know is that the content is set to hit in Spring 2018.
I've always had a fondness for Donkey Kong, and this should give him some fun story moments interacting with the Mario cast, which isn't something that always happens. Even though his voice feels just a little off, it all looks pretty good and should hopefully work in the framework of Mario + Rabbids Kingdom Battle. A boomerang banana doesn't seem a terrible jumping-off point for the XCOM-like gameplay. There could be a lot of fun to be had here.