Dragon Ball Super Previews Ultimate Squad: Pre-Release Promos
Bandai has started to show off cards from the next official Dragon Ball Super Card Game expansion. This June 2022 set is the seventeenth main set and is notably also the eighth and final expansion under the Unison Warrior Series banner. The set, titled Ultimate Squad (with its full name being Unison Warrior Series BOOST – Ultimate Squad) focuses on the androids and robots of Akira Toriyama's universe. It will include cards that recreate scenes and feature characters from the upcoming movie Dragon Ball Super: Super Hero, the space-travel adventures of early Dragon Ball GT with a de-aged Goku, the Cell Saga, the Cooler movies, and the Red Ribbon Army. As Dragon Ball Super Card Game debuts artwork from this upcoming set, Bleeding Cool will offer a look into the upcoming cards from a collector's perspective.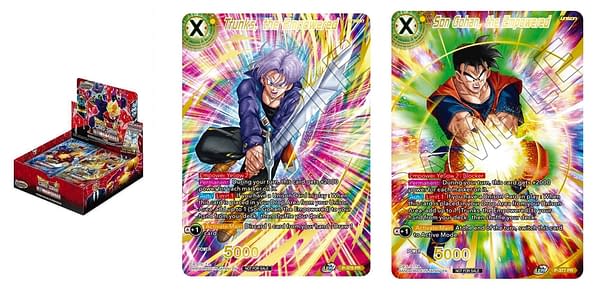 This time around, the previews are not cards that you'll be able to pull in actual packs of Ultimate Squad but rather cards that you will be able to get as pre-release promos. These cards will be available exclusively at tournament-official hobby shops that will be hosting pre-release events for this upcoming DBSCG set. I've found that recently, shops have sometimes had a hard time getting DBSCG products by their expected dates, so if you hope to pick up these two awesome cards and get your first taste of Ultimate Squad, your best bet is to contact your local game store and ask them for details on their DBSCG pre-release events.
The cards feature Future Trunks and the ill-fated Future Gohan who trained him in their post-apocalyptic world.
Are you excited for the final Unison Warrior Series set? Stay tuned for more previews of Dragon Ball Super Card Game: Unison Warrior Series BOOST – Ultimate Squad. You can follow this series by clicking the Ultimate Squad tag right here.