Drowning In A River Of Enemies: We Review 'Solstice Chronicles: MIA'
[rwp-review-recap id="0"]
The Red Solstice was an interesting game when Ironward released it back in 2015. Many were curious if we'd ever see a sequel, and we thought that might be happening when they announced Solstice Chronicles: MIA would be coming out via Nkido Games Inc. However, over time we learned that what it was a follow-up in the same universe, it was not a sequel, nor would it be in the same format. So is it possible to create another good game (through crowdfunding no less) from the same place and not make it tied into the previous one? Totally! But we're these guys able to pull it off?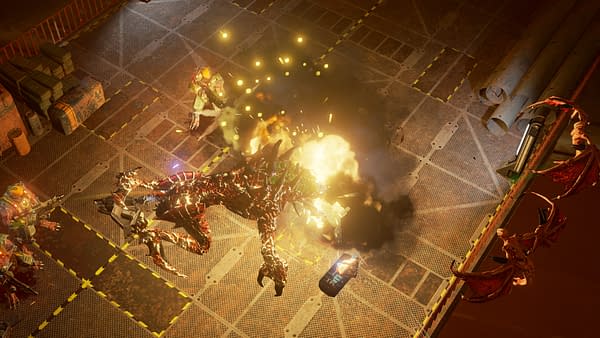 Solstice Chronicles: MIA is a twin-stick shooter with a tactical edge that is run-and0gun at its finest. You kick into the game with barely a moment to think as you shoot an onslaught of enemies coming your way to chop you down. At the top of the screen, you have a threat level that will tell you exactly how bad of a mess you are in. You get a couple of weapons at the start, including your primary which you'll be able to pick up ammo for as you run around. Your suit has an integrity meter in the corner while certain keys will unleash mines and grenades. You'll also have the ability to create turrets and other stationary weapons that will help mow down the enemies.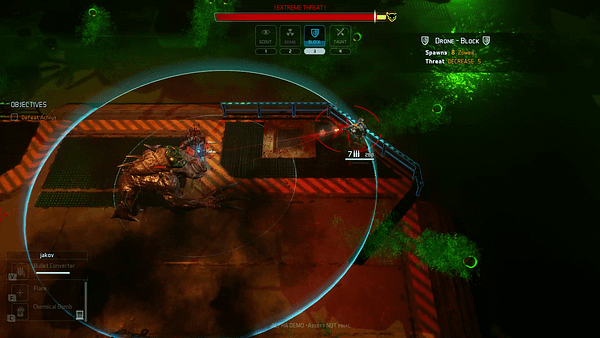 You're not really given a ton of story throughout the game to explain why you're here and why it is important you clear all these horrid creatures out. All you know is that it needs to be done to accomplish certain goals, which we won't spoil here. Unless you actively look for a place to hide, the danger is everywhere and there will be no chance for a breather when the next batch comes your way. So a lot of the game will have you jump in, shoot everything in sight, pick up what you can and then run to the next area.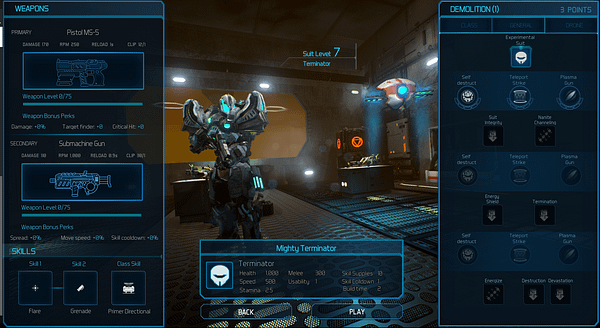 The bar at the top is going to become the biggest thing you hate about the game as it shows you two levels. Your potential threat level that's coming up, and your current threat level that you are in. The more you clear the more the meter will go down, but the further in you go the more the potential will rise and become real. Before every mission, you'll have a chance to select your class of soldier and different areas of which you can mess with your gun and make things easier in certain respects.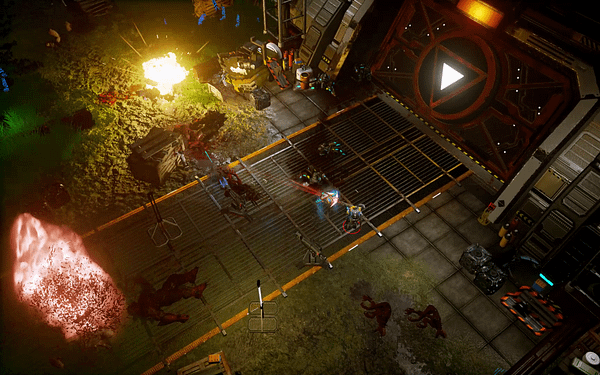 The hardest part that also gives me the biggest stomach ache are the enemies and the frequency of enemies. I am totally down for a challenge when it comes to shooters, but I am not down for being so overwhelmed that I can't get a single bearing on where I am. Solstice Chronicles: MIA is the equivalent of being a baseball batter swinging at 14 different pitches. Everything is coming at you at different times and you have to tackle each one as three others are around you. It never ends, and while this can be challenging for some, it became an overbearing chore by the end of hour number four into it. Solstice Chronicles: MIA is a damn fine game and a respectable addition to the series. The twin-stick motions are amazing and they put on one of the best run-and-gun shows possible. That said, the never-ending assembly line of enemies can become suffocating to the point of displeasure and eventually became a turnoff. This is a lot of fun and I do recommend it, but there is a cap as to how many times I can play 1-vs-1,000.
[rwp-review-ratings id="0"]
[rwp-review-form id="0"]