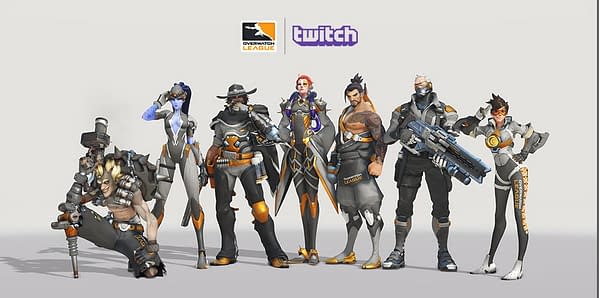 If you've enjoyed watching the Overwatch League matches, you have even more reason to tune in, because viewers will now receive in-game benefits for watching the League.
Blizzard has announced that the Overwatch League and Twitch are teaming up again, and starting today viewers will be able to earn skins, emotes, and team-themed items, as well as League Tokens, just by watching their favorite teams face-off. Full details are available on the Overwatch League site.
Overwatch League Cheering is a new feature unique to Twitch which allows fans to unlock in-game skins, emotes, and team-branded items by Cheering their favorite team using Bits, which is Twitch's virtual currency. Skins offered through the system are exclusive to Cheering for a time, and a Cheer leaderboard will track top participants.
Viewers who link their Battle.net accounts with Twitch will also be able to earn one League Token each time a map concludes during a live broadcast, with a chance to win 100 League Tokens, which is sufficient to purchase a single team skin. The League Token reward program is available on PC, PS4, and Xbox One in select countries through the end of the inaugural season of Overwatch League, and may expand to further countries in the future.
Twitch is also developing a VIP ticket which unlocks even more in-game rewards, behind-the-scenes content, and other perks. Details on VIP tickets will be announced in the future.
"Today's news illustrates Twitch's commitment to bringing the best possible experience to our Overwatch League fans," said Mike Minton, Sr. Director, Commerce, Twitch. "With Twitch's exclusive Cheering feature, fans can express their team pride as they unlock exclusive items, while the viewer rewards program lets them earn League Tokens that build on that pride with Overwatch League home-team skins. More innovations are in the pipeline, but it's already a one-of-a-kind approach that will resonate with fans who want the ultimate live shared experience online."
For more information on how to participate in Overwatch League Cheering and the viewer rewards program, you can find more details over on the Twitch blog.
Enjoyed this article? Share it!