The Elder Scrolls Online: Summerset is TESO at Its Best

The Elder Scrolls Online: Summerset is the latest expansion coming to Bethesda's Elder Scrolls MMO, and it was playable during Bethesda's PAX East event. The demo itself was relatively short for a massive open-world game, with demo windows capped at 20 minutes. So I went with a randomized character, kept my skill options pretty basic, and ran through the new tutorial as quickly as I could.
The new tutorial, like every tutorial section of every Elder Scrolls game from now through the inevitable heat death of the universe, has you start as a prisoner. This time, you're in a magic prison, but its a special magic prison as its a soul prison. You fight your way out with the help of a member of the Psijic order, and then are let loose upon the isle of Summerset.
The Summerset Isles are pretty standard high-fantasy fare, though they are pretty darn gorgeous. You'd expect nothing else from the High Elves after all.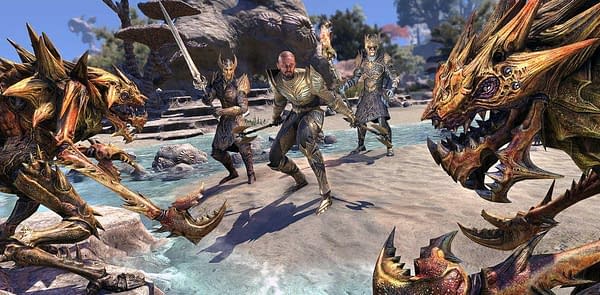 While I didn't really get much of a chance to experience the game's story (20 minutes of main story in a sandbox MMO is pretty much nothing) nor could I really experience any of the new soul magic skills, I did get to wander around Summerset and pop myself into a dungeon.
So getting a brand-new area to go play around in — one we haven't seen before and don't have too many fond memories of — is the best direction Bethesda could take with this expansion. And they seem to have done it well.
I just hope that voice acting wasn't the final cut, because damn, was that not good.
You can see some of the expansion in action below and check out the full details here.