Evercade Announces Mega Cat Studios Collection 2
Evercade has revealed another collection of retro game titles on the way with Mega Cat Studios Collection 2. Unlike the previous collection which had 17 games to choose from, this time around it only has eight. But the eight they have are some of the more expansive and experimental games of the bunch, many of them on the puzzler and platformer side of things. You can read up on all eight games here with the trailer, as this collection is now up for pre-order with a release window of late August 2021.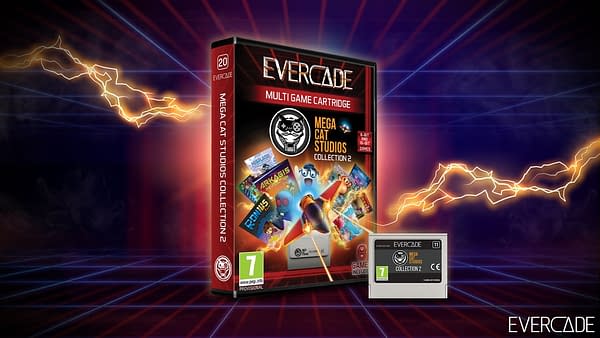 ALTER EGO DREAMWALKER
Get in touch with your phantom side in this warp-tastic action puzzle game! Become Zool and escape an interdimensional prison by swapping positions with your phantom twin. Solve all of the fiendish puzzles to make it back home!

ARKAGIS REVOLUTION
Year 2612. Humans have started to travel space and colonizing other planets. For decades, the nation of Arkagis has been under the power of dictator. The United Space Colonies have sent an army to bring down the dictator and free Arkagis!

DEV WILL TOO
Prepare your mind for this existentialist adventure, as you jump into this classic screen by screen platformer full of challenges and fun! Test your own skills with the innovative combo system that multiplies your score, and unravel the tale through hand-drawn comic cutscenes!

GLUF
Hop right up to the most electrifying frog in the universe and navigate through 30 levels of amphibious platform puzzles. Whether it's spine-tingling terror from the Royal Boo's spookish attacks, or the Googantuan Slime's slippery touch, the only hope for escape is your webbed wit and patience.

MISPLACED
Join Hara on his exciting, charming puzzle quest to unravel the mystery of the sky world and use the unique Record/Playback ability to reveal the enigma of the clouds! Featuring 25 challenging levels and a quirky cast of characters.

REMEOW & JULICAT
Help Romeow woo his beloved Julicat! You'll explore a variety of locations and classic romances as you place blocks on the board to help Romeow play his instrument and sing his song. Reach the target number on each stage to complete the serenade and reunite the lovers!

RONIU'S TALE
Get your wits and reflexes ready! When Roniu, a boy who is bored with his life, explores a strange light, he finds himself trapped in a magic dungeon. Now, to escape, he'll have to follow the guidance of the ghost Ousia and find the orbs that will allow him to make a final wish…

YAZZIE
Take on the role of a care-free gold digger as he navigates a dangerous old mansion in search of untold treasures. Help the hapless hero as he finds gold, avoids deadly traps, and dodges the dangerous denizens of the mansion.