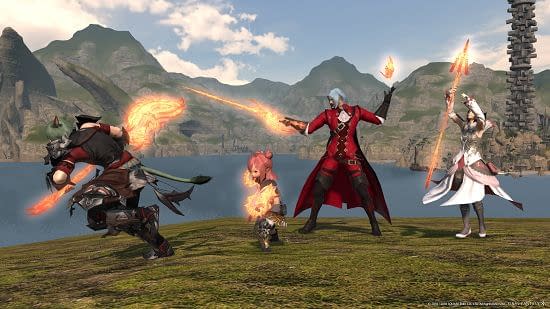 Square Enix has continued their post-launch content updates for Final Fantasy XIV: Stormblood with today's new Patch 4.35, which debuts the new Deep Dungeon, Heaven-on-High, the next chapter in the Hildibrand quest series, as well as new items and system updates. Oh, and the launch of The Feast Regional Championship 2018, for the few dedicated PvP enthusiasts.
Heaven-on-High is much like Palace of the Dead in that it challenges players to traverse through a 100-floor roguelike dungeon with scaling difficulty. However, this new deep dungeon comes with a reworked leveling system and special weapon rewards for those who make it to floor 100. You can see a few of those new weapons above.
Additionally, we've got the latest questline in the Hildibrand saga, which sees the titular Inspector investigating crimes perpetrated by the Wolf Burglar in and around Hingashi and Yanxia.
Patch 4.35 also comes with new emotes, minions, a new mount, new Triple Triad cards, new furnishings, and new hairstyles from the Hairstyle Design Contest.
The patch also comes with some PvP balance changes just in time for the Feast Regional Championship 2018, which is the game's official PvP tournament held in North America, Europe, and Japan. The preliminary round of the Regionals starts today, July 3rd, and continues until Monday, August 13th so you've got some time to rack up wins.
Winners of the prelims will advance to the online semifinals, which will be streamed and hosted by Square Enix and will determine the final teams that will participate in the North American finals held at the Fan Festival in Las Vegas this fall.
More information, rules, and schedules can be found at the Regional Championships dedicated site here. Details on the PvP battle system changes can be found on the Lodestone.
As for that Final Fantasy XIV Online Fan Festival, the publisher has released some new information about the festival tour which kicks off in Las Vegas, Nevada at the Rio Casino on November 16th, 2018. Those details include:
Ticket sales for Fan Festival 2018 in Las Vegas will beginning on 

July 10th, 2018 at 12 p.m. PDT

. Additional details on purchasing tickets is available on the Lodestone.
The event will be live streamed free of charge in all regions, and will include all stage content except for the concerts.
Attendees of Fan Festival 2018 in Las Vegas will receive a special Fan Festival mount: the SDS Fenrir designed. Additionally, attendees of each Fan Festival event will receive an in-game minion specific to that event—minion details are to be provided at a later date. Those unable to attend the events may purchase these items on the Mog Station at a later date.
More details about the event are available at the official Fan Festival website.
Enjoyed this article? Share it!