Fortnite's Newest Event Comes with a Heist Battle Royale Mode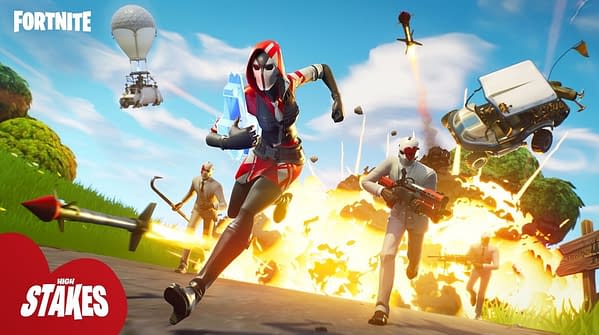 Fortnite may not have been on the PAX West expo hall floor, but that's because Epic Games had too much Fortnite to be contained in a mere booth. The publisher made a ton of announcements about the blockbuster game at the convention, including the announcement of a new grappling hook item, a new costume, the game's new "High Stakes" heist-style event, and a battle royale mode called "The Getaway."
Like all of Fortnite's specialty battle royale modes, "The Getaway" will exist only for a limited time. The mode will see teams competing to capture four safes in supply drops spread around the map. The safes have jewels inside, which players will need to take to a getaway van in order to win. Which will involve a lot of running from very angry opponents, as one would expect from a heist game mode.
To go along with the "High Stakes" event, Fortnite players will be able to get a new "Wild Card" skin and a safe-themed glider to show off their thief credentials.
The "High Stakes" event was planned to start tomorrow, however its launch has been delayed to September 6th due to a "critical controller issue."
Fortnite is available now on PC, Xbox One, Nintendo Switch, iOS, Android, and PS4. You can see a teaser for the new battle royale mode below.