Fortress Festoon: Exploring Geeky Jewelry and Watches from ThinkGeek
In our latest edition of Fortress Festoon, we'll go off the beaten path for a second when it comes to home design and focus more on something personal that while still stored at home on display, you can also take around town with you. We're talking watches and jewelry. While the use of a watch has pretty much be phased out by a modern generation using the digital clock on their phones, having a physical watch is now a fashion statement, which you can utilize to show off your passions of geek culture. Jewelry, on the other hand, is meant to be an item for a statement, and what better way to get a conversation rolling than with something that catches another geek's eye. We have eight selections sent to us below from the people at ThinkGeek for you to check out.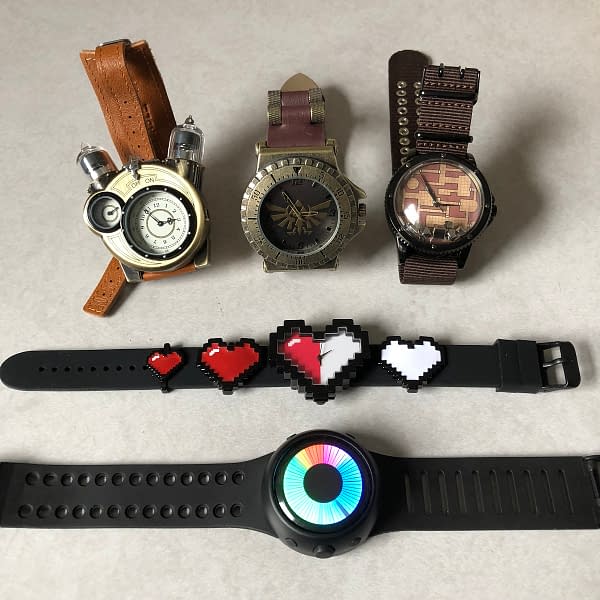 Dungeon Master's Watch
ThinkGeek
Price: $50
Dungeons & Dragons is reaching a new peak of awareness in the world, to the point where having a character and sharing your adventures is a cool little talking point in some circles. If you happen to be a fan of the game, then this Dungeon Master's Watch is a nice item for reference. The face is an old-school grid map like you'd see in AD&D modules, with a domed plastic cover that contains several silver shapes in the form of dice. So as you move the watch the dice move with it. The band is a brown fabric with extra band notches to give it that adventurer feel. Like most of the watches below, this one has a dial on the side to set the time, while the battery is sealed for only a jeweler to be able to replace. I found this to be an amazing watch to show off, though sometimes it can be a hassle to tell the time.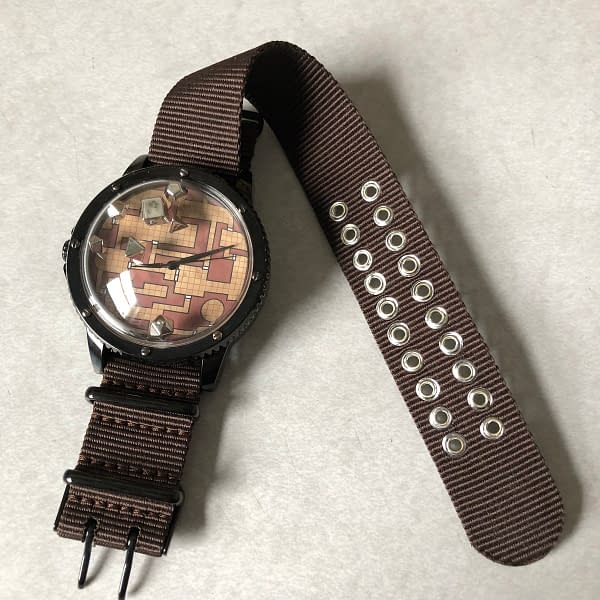 Tesla Watch
ThinkGeek
Price: $50
If you're a fan of Nikola Tesla, then the Tesla Watch is perfect for you to add as part of any steampunk fashion style you may have. While it sounds like a watch running on a Tesla coil, it isn't. The watch itself looks like a cooler and less-vacuum using version of the Nixie Watch you may be familiar with from the Steve Jobs movie. It operates like a normal watch with a regular batter inside that you can replace by unscrewing the back plate off, but with a few key differences. The first being that the watch uses a special key to set the time, which it comes with and you can slip into the watch band. The second is that it has a pair of small spiral bulbs on top that light up with you flip the on/off switch. The only real hassle about this watch is the key, which you have to put in the right spot to pull the mechanism to make it set the time. But hey, it wouldn't be true steampunk if it wasn't six steps extra to do something. We recommend if you really want something to tell tme and haven't decorated your smartphone to look like it was made in 1885 yet.
Chromatic LED Watch
ThinkGeek
Price: $25
Probably the most practical and easiest to operate watch in the bunch we have today, the Chromatic LED Watch operates with an LED screen that can be set in several different ways to show you the time, as you can see below. You can make it look like a rainbow, a slow burn, a simple three line appearance, whatever you may like to tell the time. The best part of this watch is that it doesn't require battery changes, but instead, charges using a simple 2.0 USB charger stored in the silicone band. This is a damn fine purchase for $25 if you're looking for something simple that's also meant to be showed off.
Legend of Zelda Leather Watch
Nintendo
Price: $60
Probably the most stylish watch of this set, this is an officially licensed Nintendo product as you have a gold and brown Legend Of Zelda leather watch. The face is a perfect sundial look with the minutes all laid out across the edges, inside the hours surround the inner rim, and in the center is the Hylian Crest complete with the Triforce above the bird's head. The band itself is a simple leather design with four metal bands added for design and accent purposes. This is an amazing looking watch that will instantly make any Zelda fan jealous on sight. Even the tick of the watch as the seconds go by is prominent and sounds like an amazing device. I don't really have any complaints beyond the price, but if you're buying a $60 Zelda watch, you know what you're getting.
8-Bit Hearts Watch
ThinkGeek
Price: $40
Probably our favorite of the bunch, we've always had an appreciation for people who get 8-Bit Heart tattoos somewhere on their arms or chest as a fun gamer nod for life, but this watch makes a nice utility fashion statement for people who don't want something so permanent. The watch can be set in any direction you want since there are no numbers attached, and the heart symbols themselves can be moved up and down the band for more comfort or to show them off better. It's also nice to have the slight white design in the corner to make them look shiny and realistic. Its a pretty good watch, but a tad pricey at $40.
Star Trek Starfleet Sterling Silver Trillion Ring
RockLove Jewelry
Price: $70
Moving into the rings section, we got three specific geek rings for different people. The first is this special Star Trek Starfleet Sterling Silver Trillion Ring, created for the 50th anniversary of the show. The gem in the middle is a 7mm trillion-cut white cubic zirconia, which gives the Star Trek insignia a special look and feel to it. The band itself is pretty thin so it doesn't even feel like its there sometimes. This makes a perfect way for women to show off they're fans without having to find a uniform.
D&D Twin Dragon Ring
Han Cholo
Price: $30
If you'd like a little jewelry to compliment the Dungeon Master's watch above, we suggest this Dungeons & Dragons ring. This is an adjustable steel ring featuring two dragon heads that are meant to resemble the D&D logo. Depending on the ring size you have you can end up with them passing each other, staring face-to-face, or charging each other in combat. The band looks amazing as it was made to look like scales going all the way around. The one downside to the ring is that it is sharp, like you can actually poke or cut yourself with this thing. Beyond that, it does make for an awesome show of power for any DM.
Voltron Red Lion Ring
Han Cholo
Price: $20
The final item on the list is a Voltron Red Lion ring. If you'd like to be kind of like Keith and command the red lion, there's no better symbol than that of the lion's head with a red ruby in the middle. It may not replace the weapons, but you'll look pretty boss with it. The ring is actually pretty heavy as it's made with 316L grade surgical stainless steel, and is primarily designed to sit on your fourth finger (the wedding finger). This is another ring with sharp points in the teeth, but they're not as prominent as long as you don't stick your fingers in it all the time. The nice little addition to this is having the word Voltron engraved inside the band. At $20, this is an absolute steal for this kind of quality and design.
---
---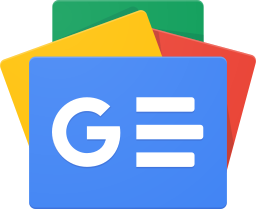 Stay up-to-date and support the site by following Bleeding Cool on Google News today!