Games Workshop Previews More New Models, Pt. 1
Just yesterday, amid all the gloom and doom that is the isolation and social distancing of COVID-19, Games Workshop has decided to spring a few new previews upon us. There are so many of them!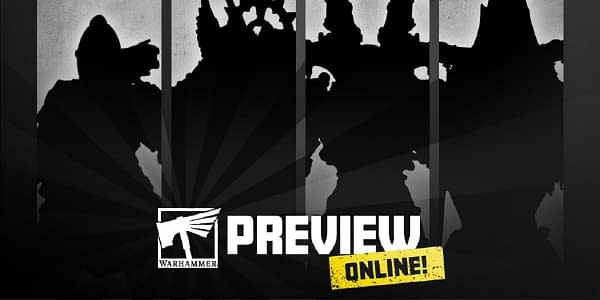 The only issue is this: Being that there are just so many different things that were previewed yesterday, we here at Bleeding Cool would be remiss to put them all into one article. So many images on a single page? Prepostorous!
Therefore, the smartest thing for us to do is to split things up into a couple of different articles for you. So, starting with the previews we got for Warhammer: Age of Sigmar and leading up to Warhammer 40,000, we will be doing just that.
Pointy Aelves Got A Lot Of New Goodies
I hadn't noticed this at the get-go, and maybe this is because I'm personally so new to Warhammer: Age of Sigmar, but apparently the High Aelves (now christened the Lumineth Realm-Lords) seem to worship cattle? I mean, I can totally understand why – many real-world religions pride themselves on the reverence of certain animals (with some worshiping many!) – but this idea slipped my mind when we saw the Alarith Stonemage a few weeks ago. Nevertheless, Lumineth Realm-Lords worship minotaur-like mountain spirits, and those mountain spirits look a little something like this: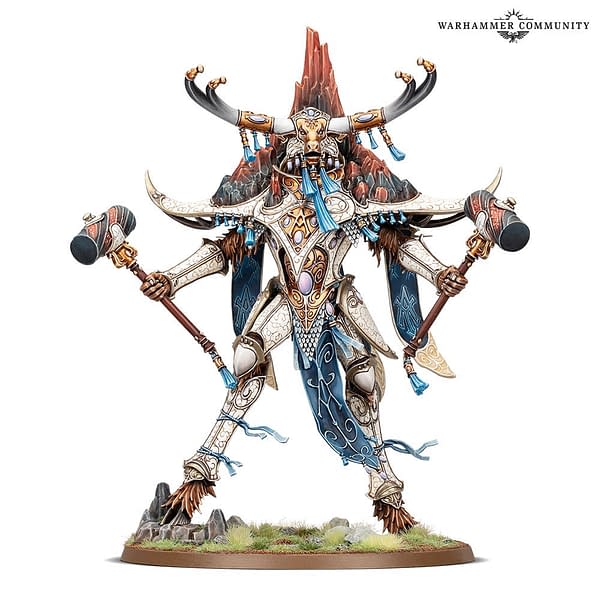 Aaaaaaand this: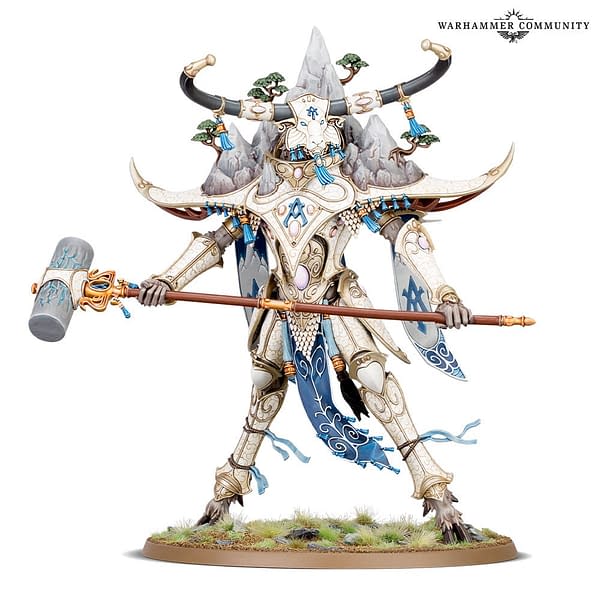 So, with these models (Avalenor and Alarith), we learn at least one of the secrets that Games Workshop was teasing us with: These war-hammers are not owned by Chaos Dwarves or the like, but the Lumineth's centerpiece models. Neat.
Furthermore, we get a look at some more Lumineth infantry: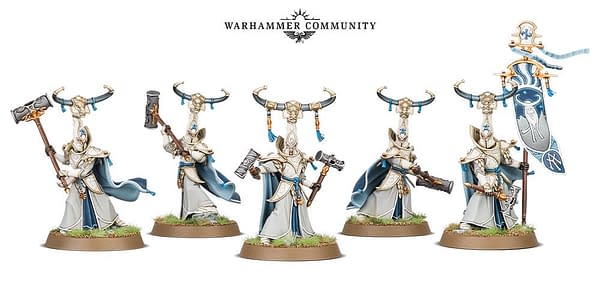 Man, it's pretty clear that these Aelves have something of a fondness for bulls!
What do you think of these models? Do they look good? Are they going to be daunting to assemble, like the Sylvaneth? Let us know your thoughts!