Giannis Antetokounmpo Announced as NBA 2K19 Standard Cover Athlete
This morning the folks at 2K Games went to Athens, Greece for an official announcement for the cover of NBA 2K19. They announced that Milwaukee Bucks star Giannis Antetokounmpo is the official cover athlete for the Standard Edition of the game, making him the first international athlete to earn the honor. Below are a few quotes from the announcement as well as the cover and official video promoting it. The game will be released later this fall.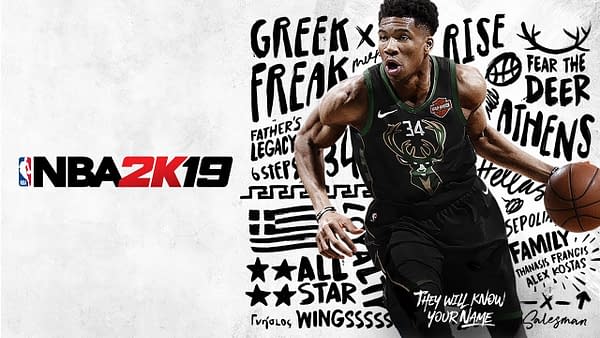 "I am honored to be the first international player featured on the cover of NBA 2K19," said Antetokounmpo. "I love playing NBA 2K so this means a lot to me. I have worked hard to earn recognition in the NBA and being on the cover of NBA 2K19 is a dream come true."

Coming from humble beginnings selling watches on the streets of Athens, Antetokounmpo has quickly won over NBA fans with his tremendous skill and genuine personality. He has also gained the respect of his fellow players, earning multiple honors, including All-Rookie Second Team, NBA All-Defensive Second Team, All-NBA Second Team (twice) and Most Improved Player.

"Giannis is the future of the NBA and his drive and athleticism have made him an undeniable force in the league," said Alfie Brody, Vice President of Marketing for NBA 2K. "He's the perfect cover athlete and we're excited to feature him as our very first international cover star, as NBA 2K has a strong following with fans all over the world."