You Can Dress as Gordon Freeman in Final Fantasy XV: Windows Edition if You Pre-Order
Half-Life is coming to Final Fantasy XV: Windows Edition as Gordon Freeman's iconic outfit is now a pre-order bonus.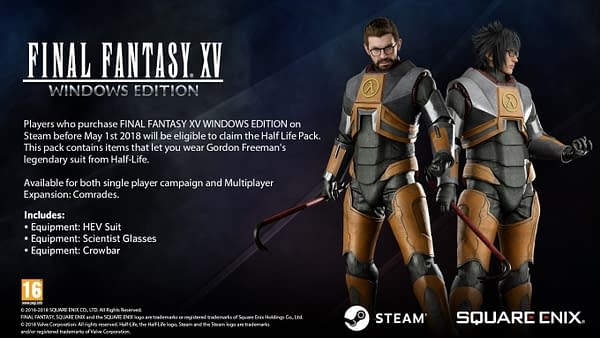 Final Fantasy XV hasn't been afraid of getting itself in some cross game promotions lately. Noctis is a guest character in Tekken 7 as well as a Final Fantasy-centric mission added to Assassin's Creed: Origins recently. It's clear Square Enix isn't afraid to mix their game with others to get the word out about the franchise (not that it really needs it). It's showing a lot of collaboration with other major publishers though, which certainly is pretty interesting to see.
It seems the collaborations keep coming too, now in perhaps the most bizarre way yet. Acting as a pre-order bonus for Final Fantasy XV: Windows Edition on Steam, the game is bringing Gordon Freeman's attire to the title. In the 'Half-Life Pack' players will get access to the HEV Suit, Scientist Glasses and, of course, a crowbar. You will be able to dress Noctis in the outfit or your own created character in the multiplayer expansion Comrades. All you have to do is pre-order the game on Steam by May 1st to get it.
The blog post revealing the items also says that there are specific pre-order rewards coming to those who want to pick up the game on EA's platform Origin, but it's not talking about those yet. I sure hope it's as bizarre and weird as this. What could they crossover with EA? Commander Shepard? A World War I soldier? John Madden? I'd love to see it, and I hope Square keep putting Final Fantasy XV in other games. It's weird, and I like it.