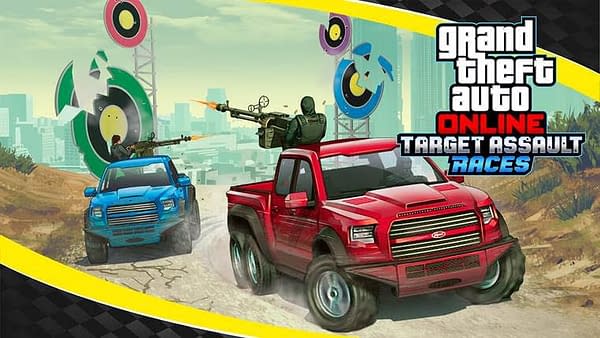 The Southern San Andreas Super Sport Series continues with a brand-new Target Assault mode, now available to play in GTA Online. The new race mode requires racers and gunners to team up and test their skills in a race that pits speed against precision in a fight for first place.
Teams of two strap into a range of weaponized vehicles — one behind the wheel, and the other on the trigger. The Gunner is responsible for destroying targets from a mounted gun, while the Driver races to outmaneuver the opposition for additional points on each lap. After each lap the Gunner and the Driver switch roles, and whichever team finishes with the most points wins.
As the Driver, play to your teammate's strengths — if your Gunner's on a streak, ease up on the throttle and let them rip through a few more targets before rushing to the next Checkpoint.
Target Assault Races are available on seven unique tracks featuring an assortment of assault-minded vehicles, including the new Vapid Caracara. Jump into the Target Assault Series blip on the map and earn Double GTA$ and RP all week long.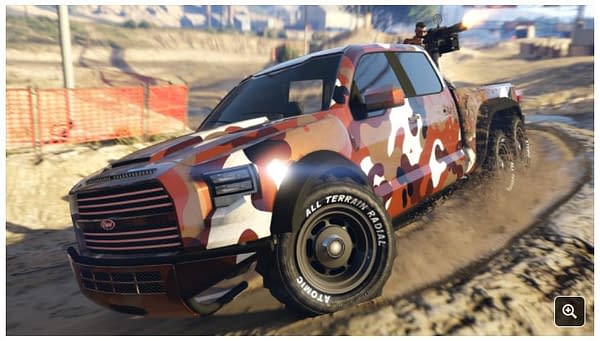 When it comes to barreling through traffic while your buddy rips through foes with a rear-mounted Minigun, it doesn't get much bigger than the Vapid Caracara. Pick up the Vapid Caracara today exclusively from Warstock Cache & Carry and take it for a spin in the new Target Assault mode.
Some other hot vehicles are on sale this week, including thr Mammoth Avenger flying base of operations, now 30% off through April 9th. Once you obtain this soaring tower of doom, you'll also find discounts on Weapon & Vehicle Workshops, to upgrade your arsenal of destruction while on the move.
This week's full list of discounts and time trial schedule are below:
You can check out the new additions in a trailer here.
Enjoyed this article? Share it!