GTA Online Continues to Be a Top Seller for Take Two Interactive Take Two Interactive has released its Fourth Quarter and End of Year 2018 investor report, which mostly holds to what we've seen of the company previously. In terms of their fourth quarter sales numbers, GTA Online, Grand Theft Auto V and NBA 2K18 were the top performers, though mention also went to Sid Meier's Civilization VI, WWE 2K18, WWE Super Card, Dragon City, and Monster Legends.
The publisher's net revenue was up 8% to $301.4 million, as compared to $278.7 million in last year's fiscal fourth quarter. Net income was down to $90.9 million as compared to last year's $99.3 million.
You can check out the consolidated Q4 chart below. Despite the company's net income being down, net revenue growing in a quarter with no major releases is still damn good.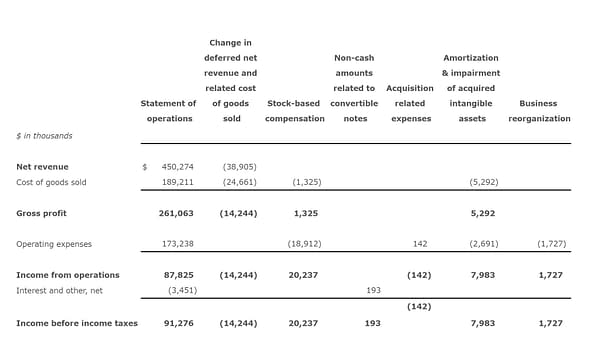 As for the entire 12-month period that ended on March 31, 2018, the company did very well overall. Net revenue grew to $1.793 billion, as compared to $1.780 billion in fiscal year 2017. Recurrent consumer spending jumped a staggering 63% and accounted for 42% of the company's total net revenue this year. Which means repeat players are bringing tons of bucks to Take Two games. Naturally the largest contributors for recurrent consumer spending were Grand Theft Auto V, GTA Online, NBA 2K17 and NBA 2K18, WWE 2K18 and WWE SuperCard.
Digitally-delivered net revenue grew 23% to $1.131 billion, as compared to $921.7 million in fiscal year 2017. The largest contributors to digitally-delivered net revenue in fiscal year 2018 were Grand Theft Auto Online and Grand Theft Auto V, NBA 2K17 and NBA 2K18, WWE 2K18 and WWE SuperCard, and Sid Meier's Civilization VI.
Net income increased 158% to $173.5 million as compared to last year's $67.3 million. Which is an absurd jump.
You can take a closer look at those results below.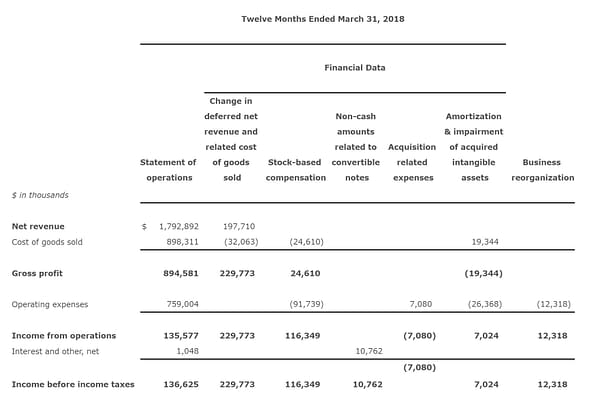 Overall, management was pretty damn happy with themselves, as showcased by the comments from Chairman and CEO Strauss Zelnick included in the investor report.
During the fourth quarter, Take-Two delivered Net Bookings growth driven by increased recurrent consumer spending – including better-than-expected results from Grand Theft Auto Online. Our solid performance marked the completion of another outstanding year for our Company, highlighted by growth in Net Bookings, earnings and net cash provided by operating activities, along with margin expansion. Grand Theft Auto Online and NBA2K generated record results, exceeding our original expectations, and we benefited from strong ongoing sales of Grand Theft Auto V and other catalog titles.

We expect fiscal 2019 to be another year of profitable growth for Take-Two, including both record Net Bookings and record net cash provided by operating activities, led by the launch of Red Dead Redemption 2 along with new annual releases from NBA 2K and WWE 2K. We will also continue to support our titles with offerings designed to drive engagement and recurrent consumer spending. The highly-anticipated title from one of 2K's biggest franchises, which had been planned for release during the current fiscal year, is now planned for launch during fiscal 2020 to allow for additional development time. We remain as excited as ever about this title, and expect it to enhance our results next fiscal year.

"This year is the 25th anniversary of Take-Two and, over that time, we have built our Company into a diversified and profitable enterprise. Take-Two is exceedingly well-positioned – creatively, strategically and financially – for continued growth and returns for our shareholders over the long-term.
All the posturing aside, Zelnick does have good reason to be proud and to be enthusiastic about the year to come. Take Two will continue to support the money machine that is GTA Online (and GTA V), while also releasing new iterations of its various successful sports franchises. Red Dead Redemption 2's release will also do pretty well for the company, just based on the eager anticipation of its eventual launch.