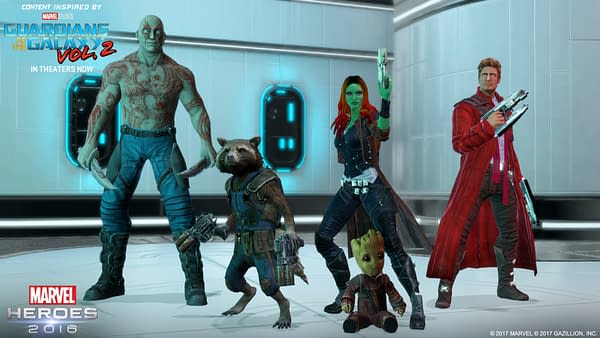 It seems like every time you turn around these days, there's more Guardians of the Galaxy everywhere. And that's no truer than with Marvel's games properties. Marvel Heroes Omega is currently in closed beta for PlayStation 4, but it along with the the PC version of the game Marvel Heroes 2016 will have some brand new costumes for Star-Lord and Rocket inspired by Guardians of the Galaxy Vol.2. Because Marvel is nothing without their ability to cross-promote.
The all-new Rocket costume also comes with updated abilities that now summon the Guardians' tiniest and most awesome member, Groot! Marvel Heroes 2016 players can also look forward to new team-ups for Gamora and Drax.
In related news, developer Gazillion was also proud to introduce Marvel Heroes Creative Director Jesse Decker, who recently shared first details on plans for new content coming to the PC version of the game with nods towards Carnage, a new Apocalypse Terminal, and new Thor-related content in the works! You can read more about their 2017 roadmap for PC content here. Decker also released some teases about their 2018 plans as well, so you may want to give that forum post a once-over before just dismissing it.
Not that they've forgotten console at all. Players interested in securing immediate access to the closed beta can select from a variety of Founder's Packs on the official PlayStation Store to start playing today with a variety of in-game perks. As is common with MMOs in closed beta, there will be a progression wipe scheduled for May 16.
And Xbox players, you can absolutely expect more details on Marvel Heroes Omega dates for the Xbox One closed beta soon.
You can check out the Guardians of the Galaxy Vol. 2 update video below.

Enjoyed this article? Share it!