Hunters Entertainment Brings 'Altered Carbon' to RPG Arena
This is a pretty great time to be a fan of role playing games, even more so if you're fan of any particular show or genre- there's a pretty good chance someone, somewhere is developing a game based off of it.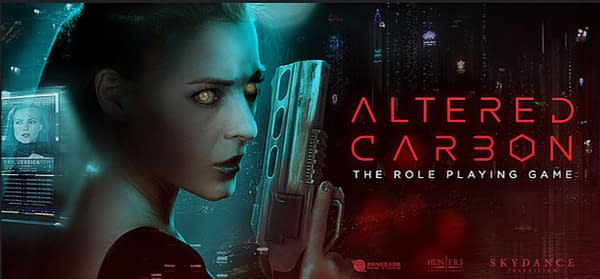 Hunters Entertainment has penned a multi-year deal with Skydance Media to bring the universe of Altered Carbon to table-tops across the planet.
There are already several notable RPG's set in this particular genre, with Cyberpunk, Deus Ex, and Shadowrun being the most prominent. Still, the universe of Richard K Morgan's Takeshi Kovacs books has plenty of exciting flavor, and will make for a very entertaining game setting!
Here's the press release from Hunters Entertainment:
…..
Los Angeles, CA (March 29, 2019) – Skydance Media has reached a multi-year licensing agreement with Hunters Entertainment to produce tabletop role-playing games set within the stunning sci-fi universe of the hit Netflix series, Altered Carbon.
Based upon the best-selling novels by Richard K Morgan, Altered Carbon is set centuries into the future when the human mind has been digitized and the soul itself is transferable from one body to the next. Takeshi Kovacs, a former elite interstellar warrior known as an Envoy who has been imprisoned for 500 years, is downloaded into a future he'd tried to stop. Netflix recently renewed Altered Carbon for a second season, with Anthony Mackie (Avengers) becoming the new Takeshi Kovacs as the series continues to explore his journey spanning hundreds of years across many different bodies and planets.
The long-term agreement calls for an ongoing series of tabletop RPGs drawing from the full scope of the Altered Carbon series, with direct tie-ins to the highly-anticipated second season from executive producers Alison Schapker (Fringe), Laeta Kalogridis (Alita: Battle Angel) and James Middleton. David Ellison, Dana Goldberg, and Marcy Ross serve as executive producers for Skydance.
"Altered Carbon is such a rich and expansive universe," says Ivan Van Norman, CMO and Co-Founder of Hunters. "We look forward to producing an equally ambitious and inspired line of games for years to come."
The games will begin with a crowdfunding campaign for the core RPG manual later this year, with plans for print and digital releases in 2020 through their global publishing deal with Renegade Game Studios.
The Skydance-Hunters licensing deal was brokered by Joe LeFavi of Genuine Entertainment, who will manage the license on behalf of Hunters and serve as an editor on the game itself. LeFavi is no stranger to tabletop, as he is currently managing the master tabletop gaming license for Frank Herbert's Dune with Legendary and Gale Force Nine. Skydance Media is represented by Evolution.
…..
We'll have more information about this game as it develops, and details on the crowdfunding campaign when it kicks off.