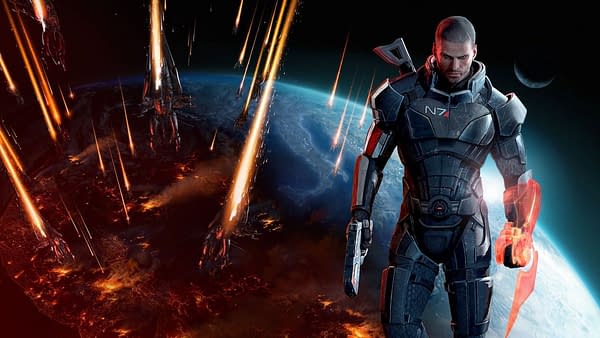 Okay, BioWare. Time to 'fess up. Are you hiding something Mass Effect-related behind these recent tweets you've been posting? Because it certainly seems like you are.
Earlier today, the official BioWare Twitter account posted a scene from the beginning of the original Mass Effect along with a caption tagged "#MassRelays." The tweet had no additional information, but it certainly looks like BioWare is teasing some kind of reveal. We're way too far out from N7 Day for it to be a "celebration."
♫ #MassRelays pic.twitter.com/SxD7nQXVGE

— BioWare (@bioware) January 14, 2020
Previously, the official BioWare account also teased something with an additional quote from the Mass Effect series as well as a photo of the Normandy.
"However insignificant we might be, we will fight, we will sacrifice, and we will find a way! That's what humans do."
🎨 https://t.co/3c1QSzf81L pic.twitter.com/BgtuOQVd7W

— BioWare (@bioware) January 7, 2020
All of this certainly looks to point to a potential release, perhaps a remastered collection of Mass Effect 1-3, or something similar. After that God-awful Mass Effect Andromeda poked its head out, Mass Effect fans deserve something to sink their teeth into, after all.
We'll be keeping an eye out on BioWare's social channels to see what's going on and update you accordingly. Hopefully all this teasing ceases and there's some sort of actual announcement soon. It's getting to be like Jennifer Aniston claiming there's a Friends reunion special coming at this point.
Enjoyed this article? Share it!