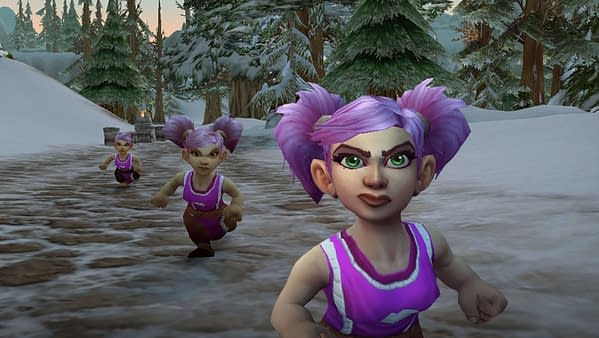 If you're playing World of Warcraft this weekend, why not participate in an event created for a great cause?
The Running of the Gnomes takes place in World of Warcraft each year. This year's is being held on Scarlet Crusade US at 7 PM ET, which is the race start time. If you want to mingle ahead of time, be sure to arrive early. Sure, it's a bunch of gnomes clad in pink running throughout the land. It's for a good cause, though: The Pink Fund. The Pink Fund provides  financial and other types of support for individuals dealing with breast cancer.
The Gnomes and organizers involved hope to reach a starting goal of $5,000. They're eventually looking to double it with help from participants. The Warcraft community will travel from the Gnome starting zone to Booty Bay, as it does every year. The event began in 2017, and started with 7,000 players online. They were able to raise nearly $17,000 from everyone's efforts. In 2018, the charitable gnomes raised over $7,000. That's a lot of money.
There's a lengthy post detailing the Running of the Gnomes and the cheer it's been spreading for the past two years. Most importantly, you must be on the Scarlet Crusade US server or its sister server Feathermoon. If you're not currently a World of Warcraft player, you can play the trial. Your hair should be pink if you make a new character to play.
This is a great reason to gather folks together in World of Warcraft, and it should be a fun way to invite players to work together to do good. Will you be taking part in the Running of the Gnomes?
Enjoyed this article? Share it!