Joseph Gordon-Levitt Defends HitRECORD's Involvement in Beyond Good and Evil 2 Despite Criticism
Joseph Gordon-Levitt has taken the time to defend his crowdsourcing company HitRECORD's involvement in Ubisoft's Beyond Good and Evil 2, saying that contributors will be compensated for their work.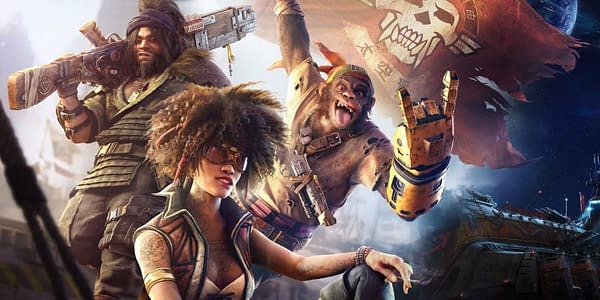 There was a very interesting segment during Ubisoft's E3 press conference last week when Joseph Gordon-Levitt took to the stage to talk about HitRECORD. If you are not aware, the company was founded by Gordon-Levitt to create a space for crowd-sourced art projects. The announcement was made that HitRECORD would be partnering on Beyond Good and Evil 2 allowing fans to contribute to the game, be it in the form of music or in other artistically interesting ways.
Sounds like an exciting way for fans to get involved with the game right? Well, strong concern was brought up about a AAA game basically cutting cost by asking for their community to fill in the blanks. It was briefly quelled when it was announced that successful contributors would be compensated, but it spun up again when it was announced the budget was only $50,000.
Well, Gordon-Levitt took to Medium to talk about the criticisms, and explain where the company was coming from. He explained that HitRECORD will pay contributors and that it is less about finished works and more about people coming together to layer their voices on top of what has already been done. He also explained that contributors will keep the rights to their works.
He added:
Ubisoft is not cutting any corners. HITRECORD's contribution to Beyond Good & Evil 2 has not resulted in a single job lost. They're not doing this to save time and money. They're doing it to allow fans who love playing games to get involved in making the game.
There was another concern that, as it is in more traditional freelance positions, that submitting work should allow people to be paid regardless of if the work is used or not. Gordon-Levitt said:
I appreciate the sentiment here, but this idea would be untenable. As soon as we announced any funded project, innumerable opportunists would contribute useless place filler and be owed compensation. We have to draw a line somewhere, and it shouldn't be arbitrary.
I feel this situation is a tricky one. I agree that Ubisoft is probably just trying to do something a little different here and aren't trying to cut costs. I'm sure the development team really did just want fans of Beyond Good and Evil 2good and to get involved in a more active way. On the other hand, we live in a world where freelancers can often be short-changed especially when it comes to spec work. Such a big company offering an opportunity like this is a bit of a can of worms and I expect this conversation will continue for some time.