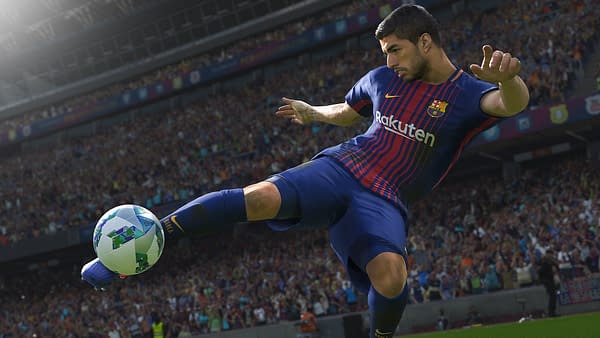 Konami Digital Entertainment Inc. has confirmed its latest demo launch of Pro Evolution Soccer 2018 will be available for download on August 20th, where fans will get a taste of what is to come with new features, modes and an unparalleled gameplay experience, before the game's September 12th product launch. Those attending this year's Gamescom, though, will get a chance to sample the PES 2018 demo before it debuts worldwide on PlayStation 4, PlayStation 3, Xbox One, and Xbox 360 later this month.
The demo will be offline only with players able to take part in both exhibition and co-op modes on the PlayStation 4 and Xbox One platforms. There will be two stadiums to choose from — the iconic Camp Nou and Signal Iduna Park — and players will have an elite selection of teams to choose from, including European giants Liverpool, Barcelona, Borussia Dortmund, and Inter Milan. South American clubs, such as Corinthians, Flamengo, Boca Juniors, River Plate, and Colo-Colo will also available for selection. The demo will also have national teams, Brazil, Argentina, and Germany available to play, as well.
Konami also confirmed more details surrounding today's gamescom event at the PES Stand in Hall 6. Borussia Dortmund stars Marco Reus and Pierre-Emerick Aubameyang will be playing the latest demo version of PES 2018, marking their first hands-on experience with the new game. Borussia Dortmund Legend player, Norbert Dickel, and sports personality, Marco Hagemann, will also be making an appearance to provide live commentary for the match, as well, which all kicks off today, Wednesday, August 23rd at 3 p.m. CET.
There have been a number of improvements to PES 2018. Its upgraded gameplay gives fans more realistic game speeds and includes strategic dribbling to give the player more control of the ball. Konami has also used its cutting edge 3D scanning systems to capture facial and physical data from a number of football clubs, ensuring that players run, pass and move as they do in real life, as well as authentically recreate a variety of iconic stadiums.
New this year is also the improved 2v2 and 3v3 feature on co-op mode allowing a player to team up with friends and compete against groups all over the world.
In addition, PES 2018 Legends are growing this season with an influx of players, including the recently announced David Beckham and Brazilians Romario and Socrates, alongside Liverpool icons Michael Owen, Ian Rush, and Robbie Fowler.
Although the demo will not be available online, players won't have to wait too long to try out the new features. PES 2018 will be released for PlayStation 4, Xbox One, PlayStation 3 and Xbox360 on September 12th. The game will also be available via Steam in a version that has undergone substantial improvements in terms of aesthetics and content, ensuring the game enjoys parity with the current-gen formats.
You can watch the brand new Gamescom trailer below.
https://www.youtube.com/watch?v=y0FCfnmlEwI
Enjoyed this article? Share it!