An Eleven-Year-Old Girl Speaks Out About The "Fortnite" Crash
Alice Johnston is the eleven-year-old daughter of Bleeding Cool founder Rich Johnston and she really likes Fortnite. Today, she writes her first article for Bleeding Cool.
Fortnite, the game with approximately 250 million players across the entire world, has shut down and I do not know when it coming back.
Before this horrible disaster, they introduced these vehicles called Mechas (Robots), a kind of transport that could kill at the same time, and they were disliked by everyone I know. Players' complaints about these transport items were ignored – they were way too OP in my opinion. One player can be the driver and the other can be the shooter in the vehicle – the driver can stomp on players which hits them for 75 HP or knocks them down straight away – and remember, there are only 100HP and 100 available in any collected shield – and the shooter has two options, rockets or shotgun shots. Rockets are favored over the shotgun and can kill someone VERY quickly – in around 20 seconds. Though this might change if there is a Season 11.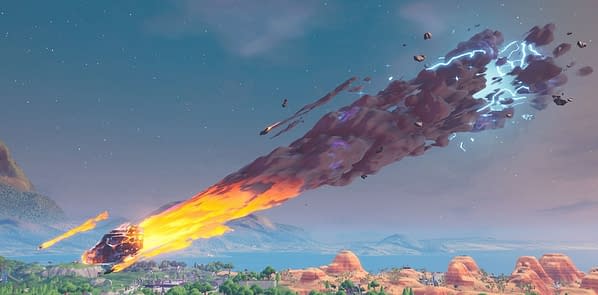 And as popular as the game may seem, there was an event on the 13th of October which saw a meteor crashing on the Fortnite map – and left gamers in shock. Before it crashed, you could actually land on the meteor and jump really high. But not anymore as the game is completely shut don.
It made me really upset as I obsessively enjoy this game. I definitely do not like this idea and feel quite angry. I keep forgetting that its shut down and just keep logging on after school, like any other day, to see a screen full of black with a hole of blue in the middle – with what I think is faintly blue smoke spreading outwards. It's not just me that is annoyed with this – one of my friends called Skye, who likes Fortnite even more than me just texted
"REALLY? NOOOO!! I WISHED I PLAYED MORE!!"
And I do have to agree with her to be honest because it may not actually come back for quite a while or maybe not at all! Though rumor has it that the leaked date for this game to return is Thursday. Until then, I guess players will have to wait patiently for this game to make its way back.