Mediatonic Reveals Details On Fall Guys Season 4
Mediatonic reveals more details today about Season 4 of Fall Guys: Ultimate Knockout, as it officially goes live this morning. The devs originally teased it to have more of an '80s theme, and while that's here, there's far more going on as it looks like we're in space. Astronauts, aliens, and the funkiest-looking beans have been added to the game. You'll need to ride a new synthwave of challenges as you go through a sci-fi-inspired season packed with seven new Rounds. Along with a ton of new challenges, costumes, and candy-coated features. We got the full details for you on this season below.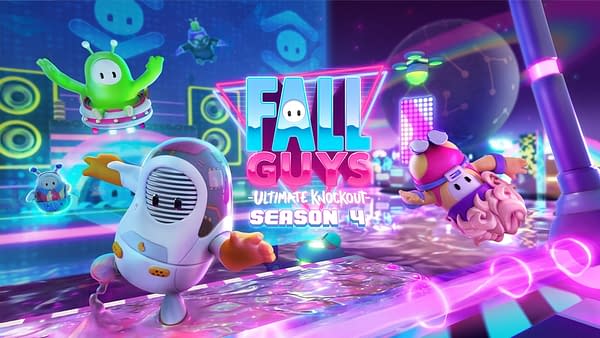 New Feature: Squads Mode. Qualify together as a Squad of 4, with your whole Squad claiming victory if any of you win the final Round.

New Round Type: Squad Race. Score points for your Squad by crossing the finish line—the higher your position, the more points you earn. The lowest scoring Squads get eliminated, so every Squad player's performance matters.

New Round Type: Squad Survival. Stay out of that slime and earn precious points for your Squad. The lowest scoring Squad gets eliminated, so feel free to target opponents and throw them off their game.

New Feature: Daily Challenges. Eager beans can log in each day to receive new Challenges to complete, with the opportunity to earn bundles of Fame and Crown Shards.

New Currency: Crown Shards. Earn 60 Crown Shards to transform them into a shiny new Crown. Collect Shards through Challenges and Squads, and check your balance in the Show Selector screen.

New Rounds:

Skyline Stumble – Our new 60-player gauntlet showcases a mega assortment of fresh futuristic obstacles, including Low Gravity Zones, Forcefields and Lasers.
Hoverboard Heroes – Set sail for slimy seas as players dive and stumble over perilous obstacles. Ride out the chaos on the hoverboard 'til the finish line or face elimination.
Basketfall – Team up to shoot some hoops in low gravity. This is the Fall Guys future, so prepare for a very silly number of basketballs…and triple hoops.
Short Circuit – A new type of racing Round drops beans on the grid and propels them through lap after lap of gravity-defying, obstacle-strewn mayhem.
Power Trip – Stumble onto the future-funk dancefloor and light up those tiles in a battery-powered battle for disco domination.
Big Shots – Ever wondered what it'd be like to stand on a See Saw while inflatable stars, magnets, gamepads, and miniature Saturns were shot at you? Well, now you'll know.
Roll On – Its Roll Out…but a race? In this classic themed Round, 60 players dash to the finish line over a series of rambunctious rotating drums. Don't fall off.