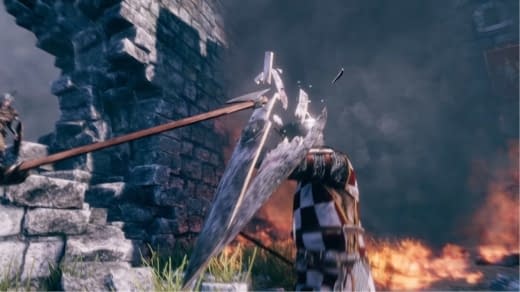 Medieval MMORPG Gloria Victis has been updated for Valentine's Day to add movable catapults.
While the dev team at Black Eye Games knows the catapults have bugs, they've mentioned that they need to see the catapults in action to fix the bugs and balance them out. Further updates will refine thei gameplay.
Granted, the catapults were soft launched, so their damage is pretty low. That will be updated moving along and they'll be far more effective once the bugs are fixed.
You can find the catapults at siege camps near the nation-controlled castles: Blackrock, Waterford, Volkvar, Skogar, Dimar and Haddah.
For now, they respawn 5 minutes after being destroyed. A more advanced spawning system will be introduced later on.
Other updates included in the Deadly Harvest include:
Open PvP

– Introduced the Deadly Harvest world event, in which all nations compete each other by capturing and controlling locations in the world – the event starts in the prime time of each server and lasts for 2 hours, during which even a dominating nation can't gain more advantage than 20% over the next nation's score; we believe that this event will encourage more open-world PVP battles not only during the prime-time but also before the event starts, as well as increase value of the player's nation territories [please note that this event doesn't affect the loot and non-loot areas – it happens in the entire world as it is]
– Introduced a 2-hour long cooldown on the fortifications downgrading when a given location is being captured in order to increase the value of the player's nation territories
– From now on, the Great Hunt event in the Ismirs' area is located in the safezone instead of non-looting zone, as it is for other factions
– Added a river surrounding Leaktown to create the natural obstacle for catapults coming from the nation-controlled locations and to improve the landscape
– Updated areas of the nation-controlled castles (Blackrock, Waterford, Volkvar, Skogar, Dimar and Haddah), creating roads for catapults coming from siege camps
– Changed position of Dimar Lumbermill, moving it closer to Dimar Castle and updating the latter's surroundings
– Updated positions of the siege event spawnpoints for attackers at Blackrock Castle, Dimar Castle and Rodrock Fort

Crafting update:

We introduced another iteration of streamlining the crafting processes, updating the flow of creating medium and heavy armors. List of changes:
– Removed Maille materials – there were 26 types of Maille which were of the same tier and required the same materials, so they were inconvenient to use; from now on, recipes require appropriateamount of metal bars for given tier instead of Maille
– Each player received steel bars in exchange for the removed Maille units – the ratio varies from 1:8 for 3in1 Maille to 1:1 for Dragonscale and Kings Maille
– Removed Small Rivets – each player received steel bars in exchange (ratio is 1:48)
– Updated recipes of all medium armors which require metal or Maille due to mentioned change done to materials
– Updated recipes of all heavy armors due to mentioned change done to medium armors, since many heavy armors require medium parts to be created and the top-tier medium armors are now more expensive to create
– Updated balance of medium and heavy armors recipes, so their levels now match required materials and the product's value and tier
– Added possibility to use materials in heavy armors recipes as an alternative to required medium armors (i.e. when crafting a heavy chestpiece, you will be able to use steel bars instead of required chainmail)
– Updated the amount of fuel required in the armorsmithing recipes, so now it matches the recipes' level
– Unified the workshops required by bows recipes
– Updated workshops required by Herbalism and Alchemy recipes
– Added bonus experience for crafting high quality items (not for crafting materials)
The full patch notes can be viewed here.
Enjoyed this article? Share it!