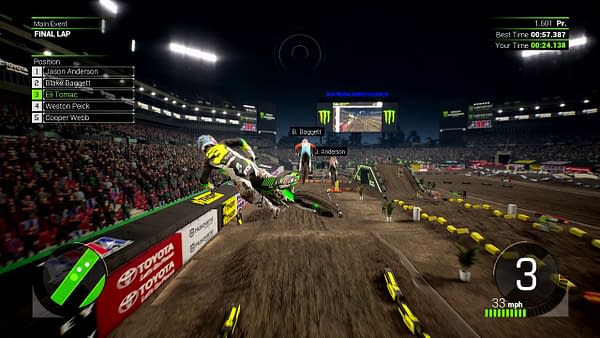 Milestone S.r.l. has released the first official gameplay video for Monster Energy Supercross 2 which shows a race lap on the Tampa circuit. The video shows the race from the perspective of champion Eli Tomac with a frenetic back track: "I don't like me anymore" by old school punk rockers NoFX.
 Because, for the first time, Supercross 2 will feature an adrenaline-filled soundtrack of punk music with some of the most famous bands, such as NoFX, Good Riddance, and Sick of It All.
Monster Energy Supercross 2 will release world-wide on February 8th, 2019 on PlayStation 4, Xbox One, PC, and the Nintendo Switch.
Much like its predecessor, Monster Energy Supercross 2 allows players to step into the boots of an official Supercross Champion and experience the exciting life of a professional athlete in the most competitive and highest profile off-road motorcycle racing championship in the world. The new edition puts players at the center of the game with a renewed career mode, an enhanced track editor, additional training compounds and an improved playability. Supercross 2 also comes with an updated roster of athletes and vehicles.
You can check out the gameplay reveal trailer below.
Enjoyed this article? Share it!