Modiphius Previews 'Star Trek' RPG Miniature Releases
Modiphius Entertainment has an incredibly fun RPG on their hands, and the fact that it's a Star Trek game makes that even more entertaining for those of us that really want to Boldly Go…
If you're curious about the game, I highly recommend the RPG Starter Set, which really gets you up and going quickly. There's a pre-made adventure that will walk even an inexperienced GM through how the game works, an pre-generated characters make it so you can get up and running within a few minutes of getting your group together.
Modiphius has already released quite a few sets of miniatures for the game setting, focusing on the different time frames of the Star Trek franchise. There's crew boxes of the original Enterprise and Next Generation crews, as well as Romulan, Klingon, and Borg sets. All of these can be used together for a tactical combat game, too!
Modiphius will be releasing two new sets of Star Trek miniatures in July, with the first one focused on generic away team members from the original series: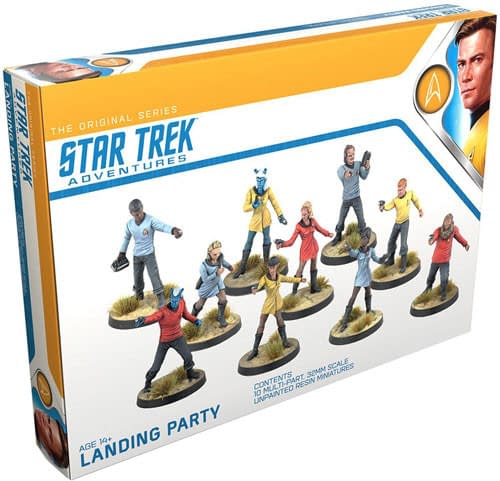 There's 10 total crew members there, and you can paint them up to be part of whatever division of Starfleet you want. The retail price on this set clocks in at about $50.
This set contains one male officer and one female officer of the Andorian, Denobulan, Tellarite, and Vulcan species, as well as two male humanoid miniatures.
The Landing Party set will go nicely with the Original Series Miniatures, where you can the likes of Captain Kirk and his bridge crew.
There will also be a set of classic Star Trek villains released in July: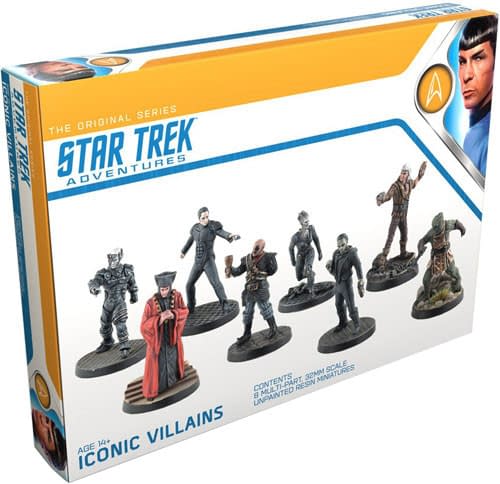 Oh, sheesh. Looks like Locutus of Borg, Q, Lore, General Chang, the Borg Queen, Gul Dukat, Khan, and the Gorn Captain are coming along to party! This set also features a $50 price tag.
Here's hoping the Modiphius has enough success with these miniatures to bring out a Deep Space Nine crew. Oh, hell. Just bring me all the crews!
You can order all of the existing Star Trek miniatures from Modiphius Entertainment from your local game store, or catch them online directly from the manufacturer.
---
---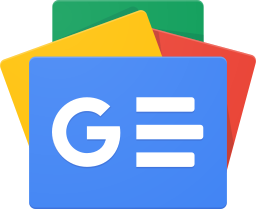 Stay up-to-date and support the site by following Bleeding Cool on Google News today!