Monster Harvest Changes Release Date To August 19th
Merge Games and Maple Powered Games revealed that they have pushed back the release date of Monster Harvest to August 19th. The game has been slated for earlier but the team had to make the decision to slide it back into August so that players got the best possible version of the game. You can read a quote from the co-owner of MPG below explaining the situation as we now look forward to seeing the game in two months.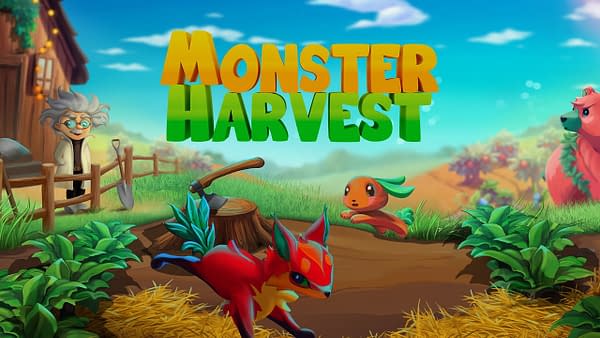 "Delays are awful, we are sorry to let down our friends and fans, yet we want to make sure we dispatch Monster Harvest in the best shape possible so that our whole community will enjoy it," explains Kerry Vandenberg, joint owner of Maple Powered Games. "We realised how important it is to ensure high-quality support for as many regions as possible right from launch day, even if that means having to push back our release date by just over a month. We are shipping the game by August 19th, with no further days and it'll be worth it when we show what we have in store for you."
Monster Harvest is a pixelated farming simulator with a twist! You will find yourself starting a new life in Planimal Point, ready to develop your own farm, customize your house, craft your own furniture and make delicious jams. What's more, you can even mutate your crops to create loyal and fierce companions to take into battle! During the journey through Planimal Point, you will discover strange Slimes which can mutate your crops in ways they would never have imagined! Depending on the season, the Slime, or the crop you mutate, you will be able to create up to 72 different mutations! Some crops will mutate into Planimals who are loyal mutated crops that stay by your side through thick and thin. They'll be a key companion as you adventure across Planimal Point, taking part in thrilling turn-based battles and exploring dungeons as you try to bring down the evil SlimeCo.

Farm with mutants! Use magical slimes to mutate the crops you grow on your farm.
Collectible Planimal companions! Some slimes mutate your crops into Planimals!
Take your loyal companions into battle as you look to save Planimal Point from the Evil SlimeCo.
Three unique seasons: Dry, Wet, and Dark – Strange weather and seasons shift what you can grow.
Venture into the town of Planimal Point – Discover the people and creatures that live there, build relationships to gain discounts in stores.
Craft dozens of items for your farm and your house.