Moons Of Darsalon Receives Mid-April Release Date
Looking for some retro 8-bit sci-fi gaming fun? Moons Of Darsalon will be getting a PC release this coming April.
---
Dr. Kucho! Games and Astrolabe Games revealed this week that their retro 8-bit title Moons Of Darsalon will be coming out next month. This game has been eight years in the works, but it may be well worth the wait as you'll get some throwback vibes to titles like Earthworm Jim, as you platform around trying to take out evil space creatures across distant worlds while trying to save as many fellow humans as possible. Check out the latest trailer below as the game comes out on April 19th, 2023, for PC on Steam and the Epic Games Store.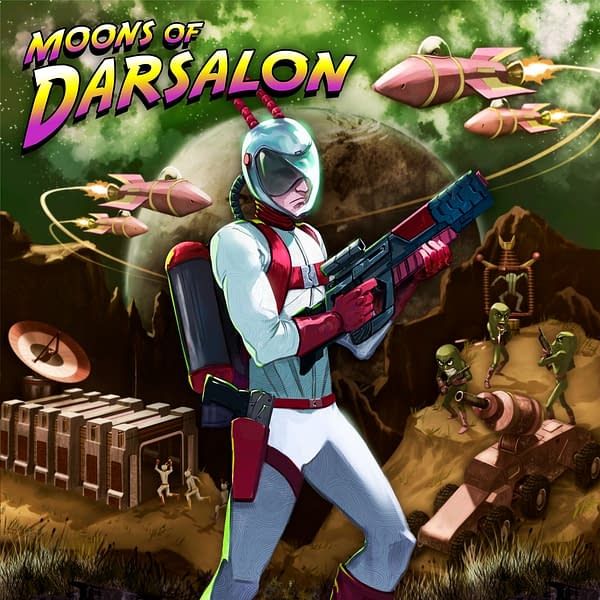 "Moons Of Darsalon is a retro action "save-them-all" platformer, including advanced physics combined with a unique retro feel. Complete rescue missions leading your colleagues to the closest base station. Fight enemies using your laser gun, jet pack, destroy the terrain and even make new paths with the ground maker. Teams of darsanauts got lost during their mining missions on the different moons of the planet Darsalon. You need to complete several rescue missions in which you will have to lead them to the closest base station. They will use their own AI to follow you and to obey your commands. On your way to the base, you will have to protect them from dangers and enemies using your laser gun, jet pack, pilot ground, and air vehicles, destroy terrain and even make new paths with the ground maker gun.
Advanced platformer AI, including dynamic terrain detection, jump force calculation, light sensitivity, inter-NPC communication.
Voice Commands to control companion NPCs.
Dynamic ground destruction and creation.
Full Interactive and realistic Liquid physics. Realistic off-road vehicle physics.
8-bit music based on MOS 6581 (SID) chip from 1982. 8-bit speech synthesis.
Unique render pipeline that combines modern lightning, 2D sprites, and 3D models pixelated in real time consistently and with a restricted color palette for an authentic retro feel. Plus, CRT filter.