NBA 2K21 Runs A Teaser Trailer During The PS5 Reveal
During the PS5 reveal today, 2K Games showed off a teaser for NBA 2K21, featuring Zion Williamson from the New Orleans Pelicans. With the season on the rocks due to COVID-19, we were kind of curious about how that might affect 2K's plans moving forward with the next title. Turns out, not at all. Well, unless you count the fact that they showed off in the trailer that they've got sweat physics down to a science. I mean, look at this teaser image they released with the trailer. Williamson doesn't get any sweatier in a gym training for a game. We got some quotes from the company and Williamson about the teaser trailer and their excitement for the next game, along with the trailer below. But we will say this… if this isn't a teaser for Williamson getting the cover as well, we're going to be mighty curious as to who ends up passing him up.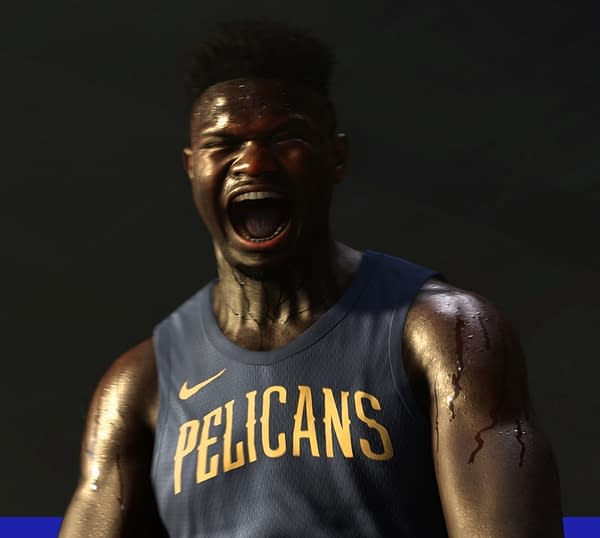 "New console launches are few and far between, and we're incredibly excited to show a sneak peek at what our fans can look forward to from NBA 2K21 running on next-gen hardware," stated Melissa Bell, Senior Vice President, Global Marketing at 2K. "Today's showing is just a glimpse at how our team is building the future of gaming with NBA 2K21, and how we're creating the most realistic sports simulation on the planet – a must-have title for sports fans and gamers alike this year."

"From graphics as in-your-face as Zion's dunk to almost unrecognizable loading speeds of less than two seconds, NBA 2K21 for next gen is poised to shatter all our previous notions of what this franchise can deliver," said co-founder of Visual Concepts Greg Thomas. "With 2K21, we've got something that merges incredible graphic capabilities with new in-game opportunities to reset the sports sim standard."

"I'm hyped by how realistic the next gen gameplay is and how accurately it captures my looks and playing style," stated New Orleans Pelicans' Zion Williamson. "It's mind blowing to see what 2K has created with NBA 2K21. I can't wait to see what else NBA 2K21 has in store."