Nero From "Devil May Cry"is Headed To "TEPPEN" Soon
GungHo Online Entertainment and Capcom revealed this week that Nero from Devil May Cry will be coming to TEPPEN with a new update. The silver-haired hero will dive into the game with a couple of new abilities from a new pack called The Devils Awaken. Also, depending on how often the trailer at the bottom gets watched, they will be adding new content to the game. Once the video reaches 5,000 views, each player who logs in will receive a "The Devils Awaken" Pack Ticket. At 8,000, they'll receive 50 Zenny. And at 10,000, they'll receive an additional two "The Devils Awaken" Pack Tickets. Enjoy the trailer!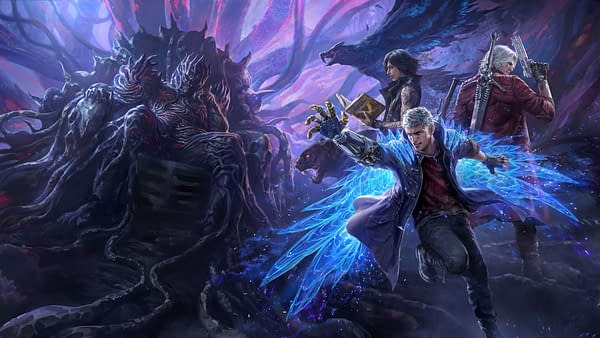 The demon hunter Nero of the Devil May Cry series will join the battle in October 2019! A new card set that showcases Nero's growth in battle will also be released! Check out the new card details and get started on building some new decks for the upcoming release! You can obtain a "The Devils Awaken" Pack Ticket from the final round of Grand Prix "DON"! You can even earn Pack Tickets in the championship round for Group B, which starts from Round 2! Even if you couldn't join Round 1, you still have a chance to earn "The Devils Awaken" Pack Ticket, so join a Grand Prix now!

New abilities that appear in "The Devils Awaken"

Growth

Acquiring a certain amount of growth points (*) will increase level and grant new effects.

*Growth points are a new parameter that will appear in "The Devils Awaken". When a unit card with the <Growth> ability is in play, playing another unit card in an open spot will grant growth points equal to the MP of that card.

Anti-Air

Blocks attacks from units with <Flight>.