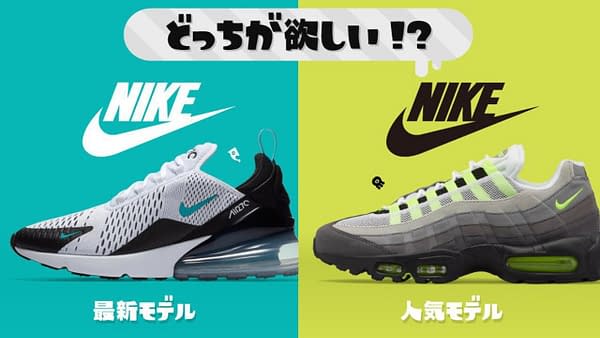 Japan's next Splatfest for hit Nintendo Switch game Splatoon 2 is being sponsored by Nike — which means we've got vaguely Splatoon-themed sneakers coming to the game. The announcement was made by the official Japanese Splatoon Twitter account just this week.
フェスの開催が告げられた。
お題は「どっちが欲しい? 最新モデル vs 人気モデル」。
ナイキ様のご協力でお送りする。
まだ誰も持っていない最新モデルと、みんなに愛されている人気モデル、手に入れたいのはどっち?
期間は3月24日(土)15:00~3月25日(日)15:00だ。 pic.twitter.com/R40StXbxx8

— Splatoon(スプラトゥーン) (@SplatoonJP) March 16, 2018
Alright, so the sneakers aren't quite Splatoon-themed — instead, Splatfest players need to decide which pair of sneakers is more awesome. The shoes in question are the Nike Air Max 270s and the Nike Air Max 95s. Based on the promo image, it seems like both sets of shoes could make their way onto the feet of their respective in-game teams, which is pretty neat.
Pearl's Team New are sporting the Air Max 270s, while Marina has the Team Popular squad wearing the Air Max 95s.
As far as Splatfest questions go, which set of Nike shoes is better is one of the less interesting ones when stacked up against the nailbiters like Chicken vs. Egg or Vampire vs. Werewolf.
The Splatoon 2 Splatfest for Japan will be from March 24th at 15:00:00 JST until March 25th, also at 15:00:00 JST.
Enjoyed this article? Share it!